Kimi Ni Todoke: Volume 19 Advanced manga review
By Leroy Douresseaux
May 31, 2014 - 16:34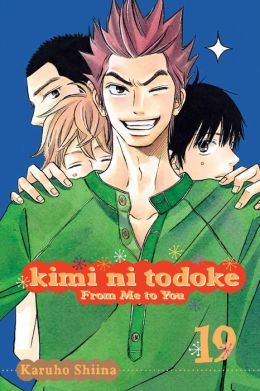 Kimi Ni Todoke Volume 19 cover image is courtesy of barnesandnoble.com.
Follow me on Twitter.
Rated "T" for "Teen"
Sawako Kuronuma has jet black hair, a gloomy attitude, and a sinister smile – a combination that makes her scary … or so her classmates think. They call her "Sadako" after the haunting horror movie character. This high school student is actually a sweet person. Shota Kazehaya, the most popular boy in school, starts talking to Sawako and her life changes. Now, they are a couple, feeling their way towards each other.
Kimi Ni Todoke: From Me to You, Vol. 19 (Chapters 76 to 79) opens as the New Year's holiday approaches. How will Sawako and Kazehaya spend it? Their friends are planning on the traditional shrine visit, but not as one big group. Each couple wants to go without other couples. Kazahaya is busy, so will Shota get to spend some time with him?
Shota and her classmates are juniors, but as they enter the last semester of the school year, it is time to think about the future. Shota is not sure what she wants, but she is sure with whom she wants to be. Perhaps, Mr. Arai, the cool teacher, can help.
THE LOWDOWN: The Kimi Ni Todoke manga is awash in teen romance. It is one of the shojo manga that can be called an ultimate shojo high school romantic comedy-drama. The previous volume, Vol. 18, was the first of the series that I had read in over a year, and I thoroughly enjoyed it.
I found Kimi Ni Todoke Volume 19 less enjoyable to read. It is like a collection of sugary vignettes about general teen romance. It is a shallow version of the heart-warming romance of Vol. 18. But if you follow the series, Vol. 19's ending will require you to come back for Vol. 20. The ending is hot.
POSSIBLE AUDIENCE: Readers looking for high school shojo romance will like the Shojo Beat title, Kimi Ni Todoke: From Me to You.
Rating: B- /10
Last Updated: August 31, 2023 - 08:12