Kimi Ni Todoke: Volume 18 Advanced manga review
By Leroy Douresseaux
January 2, 2014 - 15:14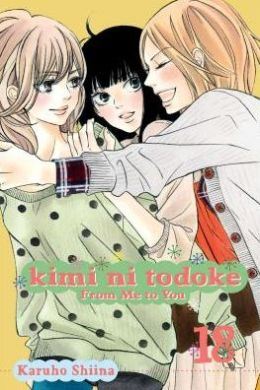 Kimi Ni Todoke Volume 18 cover image is courtesy of barnesandnoble.com.
Rated "T" for "Teen"
People think that Sawako Kuronuma has jet black hair, a gloomy attitude, and a sinister smile – a combination that makes her scary. Her classmates call her "Sadako" after the haunting horror movie character. This high school student is actually a sweet person. Shota Kazehaya, the most popular boy in school, starts talking to Sawako and her life changes. Now, they are a couple, feeling their way towards each other.
Kimi Ni Todoke: From Me to You, Vol. 18 (Chapters 72 to 75) opens during Sawako and Kazehaya's first kiss. A kiss is not enough. The two have a lot to talk about, so Sawako asks permission from her parents to stay out late with Kazehaya. Will her dad agree?
Also, there is plenty of girl talk between Sawako and her friends, Ayane and Chizuru. Plus, a very special Christmas Eve commences when everyone converges at Sawako's house for an impromptu party.
THE LOWDOWN: The last volume of the Kimi Ni Todoke manga that I read was Vol. 13. Honestly, I had forgotten about the series, until VIZ Media sent me a copy of Kimi Ni Todoke Volume 18 for review. Kimi Ni Todoke is not one of my favorite manga, but, because it is a good series, I usually enjoy reading it.
I especially enjoyed reading Vol. 18 for two reasons. The first half of the book is mostly about Sawako and Kazehaya talking, page after page of creator Karuho Shiina's lovely renderings of expressive teen faces. Shiina makes the Christmas Eve party (which takes place in the chapter "Happy Moment") feel festive, as if the story were emitting good feelings from the page. This is one of the best non-fantasy, comic book Christmas stories that I have ever read, and it is essential to central narrative.
POSSIBLE AUDIENCE: Readers looking for high school shojo romance will like Kimi Ni Todoke: From Me to You.
Rating: A /10
Last Updated: August 31, 2023 - 08:12