Kimi Ni Todoke: Volume 13
By Leroy Douresseaux
Mar 20, 2012 - 12:42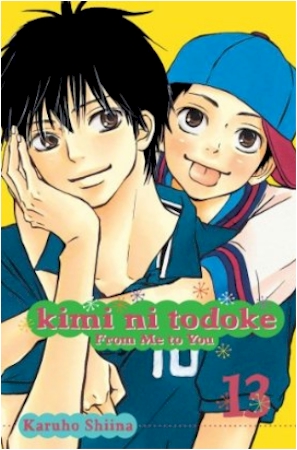 Kimi Ni Todoke Volume 13 cover image is courtesy of Anime Castle Books.
Rated "T" for "Teen"
Sawako Kuronuma has jet black hair, a gloomy attitude, and a sinister smile – or so people think. Her classmates call her "Sadako" after the haunting horror movie character. This high school student is actually a sweet person. Shota Kazehaya, the most popular boy in school, starts talking to Sawako and her life changes. Now, they are a couple, feeling their way towards each other.
As Kimi Ni Todoke: From Me to You, Vol. 13 opens, Sawako and Shota spend a day at the beach, but there is a bigger day ahead. It is time for Sawako to meet Shoto's parents! It's also time for Sawako's best pals, Ayane Yano and Chizuru Yoshida, to get boyfriends of their own. Will they find the boys of their dreams (or just a boy) during the School Trip?
THE LOWDOWN: With its easy-going narrative, the Kimi Ni Todoke manga remains a pleasant read. It is full of typical shojo manga elements, such as teen angst and rivalries and also teens dealing with self-confidence and self-loathing. However, theses elements are not dealt with in an edgy way. The melodrama here is indeed mellow.
POSSIBLE AUDIENCE: Readers looking for high school shojo romance will like Kimi Ni Todoke: From Me to You.
B+
Last Updated: Jun 26, 2018 - 9:28