Kimi Ni Todoke: Volume 8
By Leroy Douresseaux
April 27, 2011 - 11:35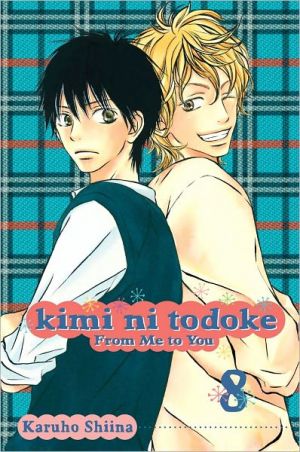 Kimi Ni Todoke Volume 8 cover image is courtesy of barnesandnoble.com.
Rated "T" for "Teen"
Because Sawako Kuronuma has jet black hair and a gloomy attitude, her classmates call her "Sadako" as she looks strikingly similar to a haunting horror movie character of the same name. Sawako comes across as someone frightening to her classmates, but this high school student is really a sweet person. When Shota Kazehaya, the most popular boy in school, starts talking to Sadako… err… I mean Sawako, her life changes.
Kimi Ni Todoke: From Me to You, Vol. 8 opens at the beginning of a new school year. Sawako and Shota's budding relationship is at a standstill, however. Even after spending the New Year's holiday together, Sawako didn't give Shota any Valentine candy. Each is having a difficult time telling the other about their feelings. Now, a new classmate, a boy named Kento Miura, is showing interest in Sawako.
THE LOWDOWN: The hook of Kimi Ni Todoke is that the lead character is a girl who looks like she crawled from a watery grave in some J-horror flick. However, this series is a typical high school romance shojo manga (comics for teen girls) with the usual teen angst, love triangles, crushes, rivalries, and general lovelorn melodrama. What sets it apart is the depiction of Sawako's fear of and trust issues regarding people and Shota's struggles with expressing himself to Sawako. She is the kind of girl who needs a sensitive guy, and Shota doesn't know how to be one. This conflict and obstacle is narrative gold for Kimi Ni Todoke.
POSSIBLE AUDIENCE: Readers looking for shojo romance will like Kimi Ni Todoke: From Me to You.
A-

Last Updated: August 31, 2023 - 08:12