Kimi Ni Todoke: Volume 5
By Leroy Douresseaux
August 21, 2010 - 14:11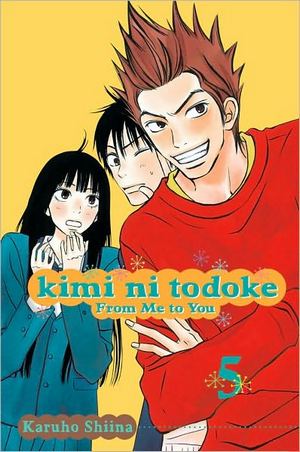 Kimi Ni Todoke Volume 5 cover image is courtesy of barnesandnoble.com.
Rated "T" for "Teen"
She has jet black hair and a gloomy attitude. Her classmates call her "Sadako" because she looks strikingly similar to a haunting horror movie character of the same name. She comes across as someone frightening to her classmates, but high school student Sawako Kuronuma is really a sweet person. When Shota Kazehaya, the most popular boy in school, starts talking to Sadako… err… I mean Sawako, her life changes.
As Kimi Ni Todoke: From Me to You, Vol. 5 opens, Sawako and Ume "Kurumi" Kurumizawa have a long conversation about the boy they both love, Kazehaya. Sawako is finally realizing that her feelings for him go beyond mere admiration, and that may affect her relationship with Kurumi, who is obsessed with Kazehaya. Meanwhile, Sawako's homegirl, Chizuru "Chizu" Yoshida is crushing on a particular boy, and it isn't who most people think.
THE LOWDOWN: As I've said before, Kimi Ni Todoke isn't really about a girl who looks like she crawled out of her watery grave in some J-horror flick. It is a typical high school romance shojo manga (comics for teen girls). The series features the usual teen angst, love triangles, crushes, rivalries, and general lovelorn melodrama, but the reader's point of reference is Sawako, the protagonist who is an outcast-turned-heroine. Although this is familiar material, Kimi Ni Todoke is a darn good read, and its best chapters are excellent.
POSSIBLE AUDIENCE: Readers looking for something a little different in shojo romance will like Kimi Ni Todoke: From Me to You.
A-
Last Updated: September 6, 2021 - 08:15