Kimi Ni Todoke: Volume 2
By Leroy Douresseaux
September 30, 2009 - 13:28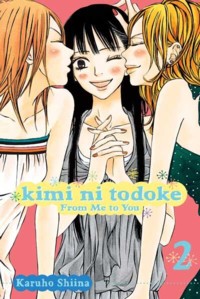 Kimi Ni Todoke Volume 2 cover image
Rated "T" for "Teen"
With her jet black hair and glum demeanor, high school student Sawako Kuronuma could be the perfect heroine… for a horror movie. Sawako comes across as something scary to her classmates because she looks strikingly similar to a haunting horror movie character named "Sadako." That becomes her nickname, but Shota Kazehaya, the most popular boy in school, is about to change everything for Sadako… um, Sawako.
As Kimi Ni Todoke, Vol. 2 opens, Sawako-now-known-as-Sadako is no longer a total outcast. However, her new found status as a popular girl (at least with a few people) will apparently be short lived. Rumors about Sadako's new gal pals, the queen bees Ayane Yano & Chizuru Yoshida, are spreading fast. Yano is supposedly a little tramp who has had numerous boyfriends, and Yoshida is apparently a juvenile delinquent who is always beating up boys. Who is the source of this nasty gossip? It seems to be Sadako, and she seems to believe that if Kazehaya keeps hanging around her, he will lose all his friends. These misunderstandings just may drive Sadako back to her pariah status.
THE LOWDOWN: Readers may find that Kimi Ni Todoke (From Me to You) seems familiar. As I read this second volume, I began to think that it reminded me of something. It wasn't until one of the characters referenced manga-ka Aya Nakahara that it dawned on me that Kimi Ni Todoke somewhat resembles Nakahara's popular shojo manga, Love*Com, another tale of star-crossed, mismatched young love.
Thus far, however, Kimi Ni Todoke is more a psychodrama about Sadako's insecurities than it is a love story. Kimi Ni Todoke creator Karuho Shiina competently executes a narrative that must traverse both Sadako's interior world and the treacherous world of high school social politics. Unfortunately, she frequently spends time belaboring the juxtaposition of Sadako's doubts about social matters and the reality of how things really are at the school.
POSSIBLE AUDIENCE: Readers looking for a shojo romance about a mismatched couple and incompatible friendships will like Kimi Ni Todoke.
B
Last Updated: August 31, 2023 - 08:12