Kasumi: Volume 1
By Leroy Douresseaux
Jul 19, 2008 - 12:33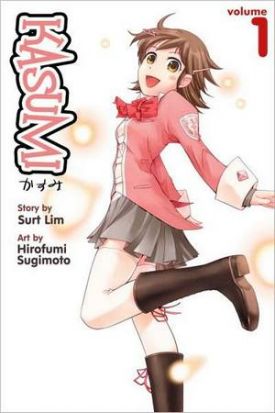 Thanks to barnesandnoble.com for the image.
Rating "T" for "Ages 13+"
After having read so much manga just in the last year, I'm at the point where I don't get that feeling of "delightfully surprised" as much as I used to because it seems that I've seen everything. Kasumi, Vol. 1 by writer Surt Lim and artist Hirofumi Sugimoto was a definite delightful surprise. I had so much fun reading it that I just breezed right through nearly 200 pages of narrative in less than half the time it usually takes me.
Kasumi Morioka is the only child of a widower father. Perhaps, to keep his sanity, Kasumi's father, who is apparently an entomologist, moves them around a lot. While moving to a new town, Kasumi experiences a strange paranormal event in a local forest. Afterwards, Kasumi learns that she has the ability to turn invisible when she holds her breath. This miraculous power comes in handy when Kasumi finds herself struggling to adjust to a new school, Seiran, an elite private school where most of her fellow students consider her a poor commoner.
Kasumi ends up making a serious rival (mean, mean girl Reina Takemoto), enemies (including Ryuuki Hasegawa, the student council president), and even some friends (fanboy Yuuta "Otaku-Ken" Goodwin and Maiko Koyanagi, a highly eccentric girl who also seems touched by magic). When Ryuuki and her pack place Kasumi in danger of being expelled from school, a surprising figure with magical powers comes to the rescue.
Filled with magic and mystery and featuring a winning, spunky girl who is more than up to the task on taking of school bullies, Kasumi is typical shoujo manga (girls' comics), but just bursting with an exceptional charge of fun. The art is built on simple shapes and uncomplicated compositions, while character faces feature big expressive eyes and depict familiar expressions. Kasumi's story and art aren't high end, but they make high fun.
B+
Last Updated: Jun 26, 2018 - 9:28