Kamisama Kiss: Volume 10 manga review
By Leroy Douresseaux
July 31, 2012 - 16:05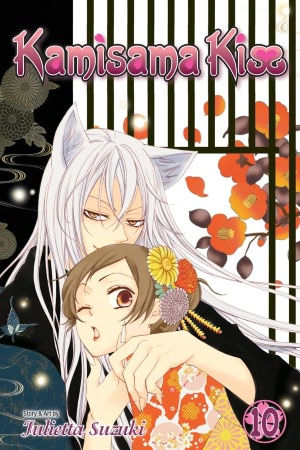 Kamisama Kiss Volume 10 cover image is courtesy of barnesandnoble.com.
Rated "T" for "Teen"
After her father left town to avoid his debts, Nanami Momozono was abandoned and homeless. Nanami saved a strange man, so he offered her his home. However, Nanami later discovered that the man had tricked her into taking a job as the kami (local god) of the Mikage Shrine. To make matters worse, her shinshi (or familiar), is Tomoe, a fox yokai who keeps Nanami from enjoying her youth. Her second shinshi is Kurashinjuro "Shinjuro" Kurama, a tengu who isn't much better.
Botanmaru, a young tengu, arrived at the Mikage Shrine with troubling news. Soon, Nanami, Tomoe, and Shinjuro were headed to Shinjuro's home, Mount Kurama. According to the Botanmaru, Shinjuro's father, the Sojobo (ruler of Mount Kurama), is gravely ill, and Shinjuro's brother, Jiro, is plotting to become the fourth Sojobo, by nefarious means, if necessary.
As Kamisama Kiss, Vol. 10 opens, Nanami, Tomoe, and Shinjuro hatch a plan to infiltrate the training hall (royal palace). But a conniving ayakashi, Yatori, stands in the way of reconciliation and the truth.
THE LOWDOWN: If the Kamisama Kiss manga is one thing, it is certainly imaginative. The series has an earthy tone, but when creator Julietta Suzuki transports the readers to other dimensions, she really transports them. Her art, an airy confection of tones and wispy lines, conjure alien dreamlands before our very eyes. Her solid draftsmanship, especially her figure drawing, gives these magical stories solidity, which allows the drama to shine through the enchanted settings. This volume's story of supernatural family drama is braced with intrigue and secrecy and has enough surprises and revelations to keep the reader turning pages.
POSSIBLE AUDIENCE: Fans of yokai-themed shojo manga will like Kamisama Kiss.
Rating: A- /10
Last Updated: August 31, 2023 - 08:12