Kamisama Kiss: Volume 8
By Leroy Douresseaux
March 25, 2012 - 09:14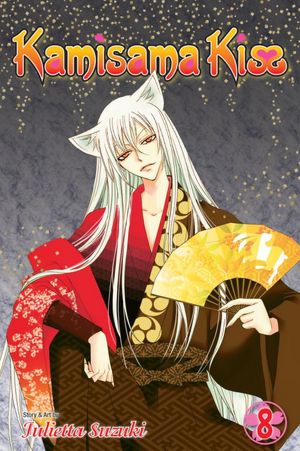 Kamisama Kiss Volume 8 cover image is courtesy of Anime Castle Books.
Rated "T" for "Teen"
Abandoned after her father skips town to avoid his debts, Nanami Momozono was homeless. Then, the teen saves a man, who offers her his home, but Nanami finds out that the man tricked her into taking a job as the kami (local god) of the Mikage Shrine. Plus, Tomoe, a fox yokai who is her shinshi (or familiar), keeps Nanami from enjoying her youth.
As Kamisama Kiss, Vol. 8 begins, Nanami awakens to find that she and her companion, Kirihito, are in the Land of the Dead. She may leave, but Kirihito, who is a human with something strange inside his body, cannot. Can Tomoe rescue her? Will Tomoe rescue her? As the weeklong Kamuhakari, the kami conference, comes to an end, Nanami learns secrets about Tomoe's past when an old friend returns.
THE LOWDOWN: It has been half a year since I read a Kamisama Kiss manga, but I was still curious about the series. Then, I received a copy of Vol. 8 for review. The Kamuhakari storyline mostly takes away from the series' knack for camaraderie and family, but the side-story involving a trip to the Land of the Dead makes up for that. That trip offers details about guest-player, Kirihito, and also provides creator Julietta Suzuki the opportunity to open up Tomoe's past and also reveal more about his powers.
The last time I read Kamisama Kiss, it felt like I was going to a party. This time, I'm getting a peek behind some of those curtains that hide character secrets, but it is not quite as fun.
POSSIBLE AUDIENCE: Fans of yokai-themed shojo manga will like Kamisama Kiss.
B

Last Updated: August 31, 2023 - 08:12