Kaguya-Sama: Love is War Volume 2 manga review
By Leroy Douresseaux
May 9, 2018 - 20:29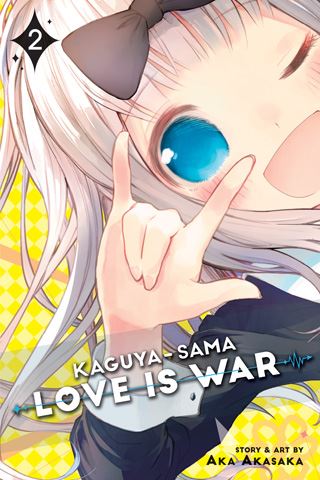 Kaguya-sama: Love is War Graphic Novel Volume 2 cover image
Rated "T" for "Teen"
Kaguya Shinomiya
is a well-bred lady and an heir. She is Student Council Vice-President at
Shuchin Academy
, a school for the children of the rich and famous and for future leaders.
Miyuki Shirogane
is the strong, silent type who has a singular focus on his studies. He is President of the Student Council. Kaguya and Miyuki are two geniuses, each in love with the other. But love is war, so which will confess love to the other when the one who confesses his... or her love first loses.
When
Kaguya-sama: Love is War

, Vol. 2
(Chapters 11 to 20) opens, Miyuki has finally obtained a smart phone. As he enters his information in his new device, he wonders if he should ask Kaguya for her phone number. But could she mistake a request for such information as a declaration of love? We can't have that! Then, Kaguya and Miyuki accidentally switch drinking cups. Is drinking from another person's cup like kissing him... or her? And will such a kiss be a declaration of love?!
Plus, it's the battle of the cat ears.
[This volume includes bonus manga and an essay, "When reading Kaguya-sama: Love is War, Vol. 2..." by Aka Akasaka.]

THE LOWDOWN:
The Kaguya-sama: Love is War manga is an episodic manga like Hayate the Combat Butler, which means that each chapter is essentially an episode and focuses on a new situation. Kaguya-sama's situations are comedic, so it would be fair and accurate to call it a situation comedy or sitcom.
My VIZ Media rep sent me a copy of
Kaguya-sama: Love is War Graphic Novel Volume 2
. I was sure I received a press release about this manga before the first volume was published, but the series did not register with me until I received a review copy of Vol. 2. I must say that I really enjoyed this manga. It is funny to watch these two genius slash idiots struggling against common sense and the fact that they really want to date each other. I do think that this series will have to evolve over time, as has Hayate the Combat Butler. For now, however, just being funny is good enough.
I READS YOU RECOMMENDS:
Fans of sitcom-type manga will want to read the Shonen Jump title,
Kaguya-sama: Love is War
.
A-
7.5 out of 10
Rating: 7.5 /10
Last Updated: May 19, 2020 - 12:25