Comics / Comic Reviews / More Comics
Jupiter's Legacy #1 comics review
By Leroy Douresseaux
April 24, 2013 - 09:13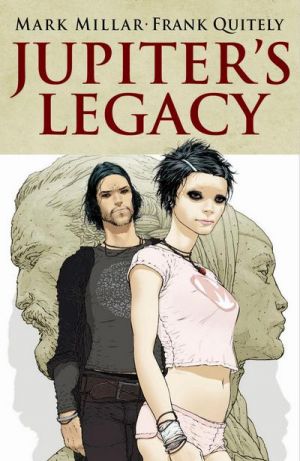 Jupiter's Legacy #1 cover - art by Frank Quitely
Jupiter's Legacy is a new comic book series created by writer Mark Millar and artist Frank Quitely. The series focuses on the children of the world's first superheroes and their struggles to live up to a legacy that is practically poisonous to the new generation.
Jupiter's Legacy #1 opens in 1932 in Morocco. The story's first focus is Sheldon Sampson, the heir to a fortune wiped out during the Wall Street crash of 1929. He has convinced his friends to follow him on a journey to a place he has seen only in his dreams. Called The Island, Sampson believes that the place will offer gifts that can save the United States of America, which is in the midst of the Great Depression.
A little over 80 years later, the great superheroes have achieved even greater things, but there is trouble. The world's first superheroes have grown old, and their children cannot live up to their parents' remarkable legacies.
THE LOWDOWN: I enjoyed reading Jupiter's Legacy #1, but I cannot really render a final or whole judgment after reading one issue. That's the curse of modern comics storytelling. A scant twenty pages of text plus decompression – spreading a storyline over four to six issues (if not more) and that combination forms a truncated chapter, if not a woefully incomplete episode.
I will say that there are some interesting ideas here. As intriguing as this take on superheroes is, Millar's allusions to the current real world political and financial climate are the most attention grabbing material. Millar draws parallels between the 21st century and the 1920s and 30s in a brash way – as if to say that he does not care whether anyone agrees or disagrees to any extent.
Jupiter's Legacy is not Frank Quitely's best work, although, as usual, it is more attention-grabbing than the work of most other artists. For me, the best of Quitely remains New X-Men. Still, Quitely's visual style is so unique and iconoclastic that I'd be interested in his art even if he were only producing still-life drawings for an extension course at the local junior college. Plus, Quitely's compositions for Jupiter's Legacy give off an unsettling vibe. Something bad is coming, and Quitely does something bad quite well.
POSSIBLE AUDIENCE: People who read comic books should read Mark Millar's creator-owned comic books, like Jupiter's Legacy.
Rating: 8.5 /10
Last Updated: January 24, 2022 - 11:00