Comics / Comic Reviews / More Comics
Johnny Boo (Book 7): Johnny Boo Goes Like This! comics review
By Leroy Douresseaux
Jan 21, 2017 - 22:42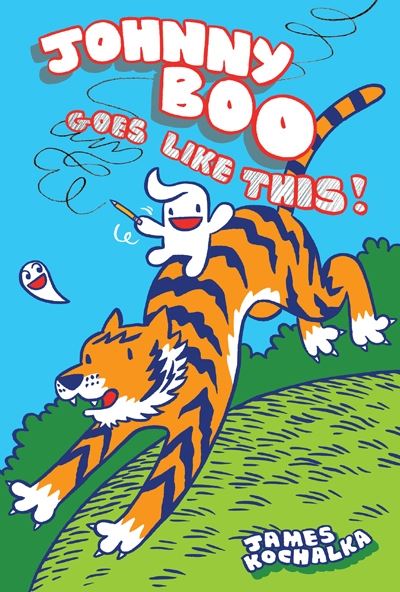 Johnny Boo (Book 7): Johnny Boo Goes Like This! cover image
All Ages (4-8+)
For a number of years, cartoonist James Kochalka has been producing a series of children's comics featuring a little ghost character named
Johnny Boo
. The first was entitled
Johnny Boo (Book 1): The Best Little Ghost
and was published by Top Shelf Productions, which still continues to publish the series as it does for Kochalka's other work
By format, the Johnny Boo books are a combination children's picture book and full-color, single issue comic book. Johnny Boo is "the best little ghost in the whole world." Why? Johnny's got "
Boo Power
," which means he can go "
BOO
" really loudly. Johnny has a pet ghost named "
Squiggle
," and he can fly and do really fast loop-the-loops because he has "
Squiggle Power
."
Johnny and Squiggle's latest ghost adventure occurs in
Johnny Boo (Book 7): Johnny Boo Goes Like This!
Johnny and Squiggle discover a giant pointy thing in the sky. After failing to conquer it with his BOO power, Johnny realizes that the pointy thing is a pencil. Thus begins an adventure that involves lots of drawing and also a tiger and "the ice cream monster."
THE LOWDOWN:
When I first heard of Johnny Boo, I thought that I might like it. I simply never got around to reading any Johnny Boo books, mainly because Top Shelf Productions never included one of them when they sent me books-for-review. Well, Top Shelf recently sent me a box of books, one of which was Johnny Boo (Book 7): Johnny Boo Goes Like This!
I am assuming that this installment of Johnny Boo is like the others, but that might not necessarily be the case. This book is whimsical and inventive, like a child's imagination running while across a blank landscape upon which he or she can draw anything and everything. So maybe each Johnny Boo book is similar, but different in that it offers a new world of infinite Squiggle possibilities.
If the children in my life had not aged out of Johnny Boo demographics, I would give them a Johnny Boo book. I think at 4 to 8 years of age, they would have loved this. I can see pre-schoolers might also be drawn to James Kochalka's striking colors and snappy drawings.
I READS YOU RECOMMENDS:
Readers looking for comics that are fun for kids of all ages will like
Johnny Boo (Book 7): Johnny Boo Goes Like This!
A-
Support this writer on Patreon
Last Updated: Jun 26, 2018 - 9:28