Webcomics / Johnny Bullet Comic
Johnny Bullet #108 Comic
By Hervé St-Louis
February 5, 2017 - 07:17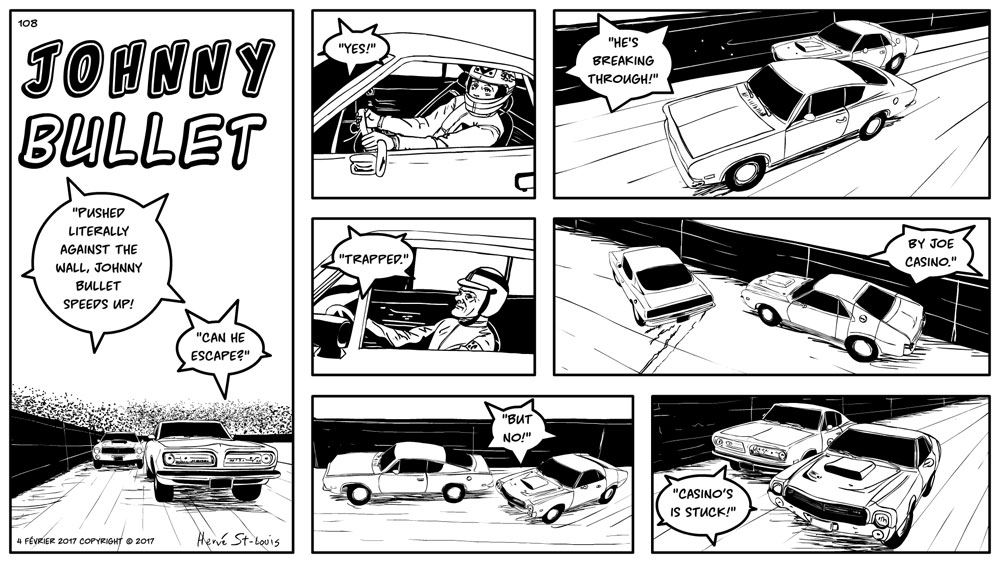 Subscribe to Johnny Bullet through RSS
Patreon


Subscribe to the Johnny Bullet Newsletter
Email me!
Written by : Hervé St-Louis
Pencilled by : Hervé St-Louis
Inked by : Hervé St-Louis
Letterered by : Hervé St-Louis

Drawing this weekend was very painful not because I don't enjoy what I was doing but there is so much going on in the world and stress in my life. Drawing is literally what kept my morale up. It means that I should probably draw the next page now too!
This week I tried something that I rarely do. I described the action instead of letting it flow without words. I have when writers overwrite but because it's an announcer explaining the race, I let it in. In previous strip, I tried to shut the race description as much as possible. I have a feeling that for many readers, they need me to explain the races as they are not as adept at visual literacy that they would want to be.
Let me know if you feel that I overwrote and prefer when I let the action do the talking or if you like the way I explained the race this week.
Thank you for reading Johnny Bullet.
Cheers
Hervé
Last Updated: September 10, 2021 - 09:13
Join the discussion: