Webcomics / Johnny Bullet Comic
Johnny Bullet #97 Comic
By Hervé St-Louis
November 13, 2016 - 00:00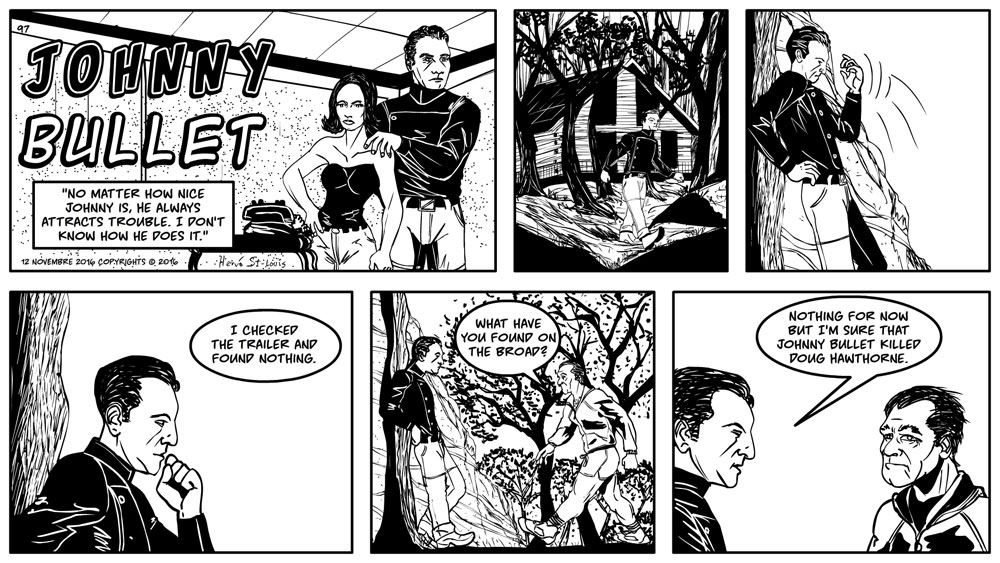 Subscribe to Johnny Bullet through RSS
Patreon


Subscribe to the Johnny Bullet Newsletter
Email me!
Written by : Hervé St-Louis
Pencilled by : Hervé St-Louis
Inked by : Hervé St-Louis
Letterered by : Hervé St-Louis

This week's comic took me longer to complete because mid-week with the American election and it's nefarious results, I was troubled. In hindsight, drawing today helped put me back together.
Nevertheless, I really like this page. For those who do not remember who these two characters are, the cowboy is Virgil Alexander and the other guy with the the shorts is Altheo Givens.
Virgil Alexander was first mentioned in Johnny Bullet #48 but seen in Johnny Bullet #59. Of course, I reintroduced him in Johnny Bullet #91.
Altheo Givens was first seen in a background poster in Johnny Bullet #48. His first full appearance was in Johnny Bullet #58 where the Detective approached him.
Last Updated: August 4, 2023 - 09:22
Join the discussion: