Comics / Comic Reviews / DC Comics
JLA New World Order
By Hervé St-Louis
December 26, 2005 - 08:50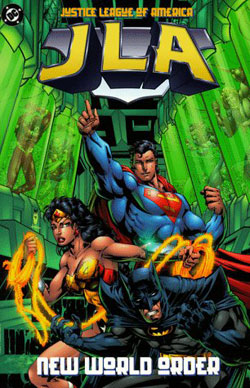 Alternate cover
This trade paper back collects the first four issues of the JLA series restarted by Grant Morrison where he reunited the original seven Justice League founders and their replacements, Flash and Green Lantern. This aspect of the Justice League has been the dominant one for the last decade. In this tale, the newly reassembled Justice League fights white Martians attempting to invade Earth secretly.
Reading this story nine years after it was published, I understand how people at the time thought it was ground breaking. However, although the story ages well, it doesn't mean it is good. At best it's a straightforward comic book with a high focus on action and little plot development. One could smell the outcome a mile away. The only difference with previous incarnations of the league was that the stakes were higher.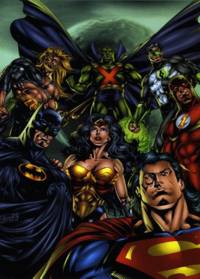 Actual cover
Looking at Porter's work is interesting in that one can witness the progression from the 1990s comic book look and storytelling toward the de-contracted and slower pace. Porter is as quick with his story as Morrison was with words. Page layouts are wild, almost like early Image comics and Marvel books of the time. Yet proportions are weak and the poses and contortions of the characters are a pain to watch.
Rating: 6 /10
Last Updated: September 6, 2021 - 08:15