Jaco The Galactic Patrolman: Volume 1 manga review

By Leroy Douresseaux
January 12, 2015 - 11:25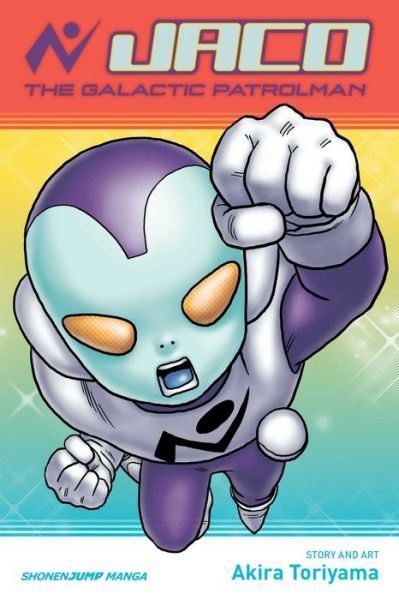 Jaco the Galactic Patrolman Volume 1 cover image is courtesy of barnesandnoble.com.
Follow me on
Twitter
.
Rated "A" for "All Ages"
Jaco the Galactic Patrolman
is a manga comedy from
Akira Toriyama
, best known as the creator of his breakout and breakthrough hit manga,
Dragon Ball
(published in the U.S. as Dragon Ball and
Dragon Ball Z
).
Jaco the Galactic Patrolman
focuses on the unlikely friendship between a stranded alien cop and a reclusive, island-dwelling scientist.
VIZ Media recently published
Jaco the Galactic Patrolman
as a paperback graphic novel, with the story being complete in one volume. This stand-alone book is published under VIZ Media's Shonen Jump imprint, and is rated "'A' for All Ages." The printed edition of Jaco the Galactic Patrolman has a MSRP of $9.99 in the U.S. And $12.99 CAN.
The digital version of
Jaco the Galactic Patrolman
, which is also currently available, is $6.99 (USD/CAN) from VIZManga.com and through the VIZ MANGA App for the Apple iPad®, iPhone® and iPod® touch, Android-powered smart phones. The digital volume of
Jaco the Galactic Patrolman
can also be purchased through the Nook, Kobo, ComiXology, Kindle, iBooks and GooglePlay stores.
As
Jaco the Galactic Patrolman
opens, we meet
Jaco Teirimentenpibosshi
(or Jaco the Galactic Patrolman), an interstellar cop. He crashed his ship on the moon, which forces him to make a crash-landing on a small island on Earth. There, he meets retired scientist and engineer,
Omori Tokunoshin
. A widower, Omori lives alone on this deserted island, while continuing his research into time-travel.
Omori is perturbed that his quiet life is interrupted by Jaco, who decides to move in with Omori. A member of the
Galactic Patrol
(which protects the peace of the galaxy), Jaco claims to be "
Super Elite
," but he is quite clumsy and always gets into trouble, which aggravates Omori. Can Jaco get along with old man Omori long enough to save the earth from a dangerous threat... and also to save
Tights
, the 17-year-old girl about to embark on a dangerous rocket ride?
[This volume includes the bonus story, "Dragon Ball Minus: Departure of the Fated Child."]
THE LOWDOWN:
Akira Toriyama seems to have a magic touch when it comes to creating manga for young readers, from the Halloween-appropriate
COWA!
to the beloved Dragon Ball.
Jaco the Galactic Patrolman
is perfect for young readers. It is cute and fun, but it isn't simple-minded. Like Toriyama's other manga, it is quirky, delightful, and especially inventive and imaginative.
The other cool thing about
Jaco the Galactic Patrolman
is that it is tied to Dragon Ball, with Jaco and Omori's adventures mostly taking place just as the beginnings of Dragon Ball come together. I have to admit, with some embarrassment, that I was quite happy to discover this connection – like a little kid. In fact, this volume's bonus story is a kind of prequel to Dragon Ball, as it tells the story of how
Goku
's journey to Earth began. If you need a reason to buy
Jaco the Galactic Patrolman
, this is it.
POSSIBLE AUDIENCE:
Fans of Akira Toriyama will want the Shonen Jump release,
Jaco the Galactic Patrolman
.
Rating: B+ /10
Last Updated: August 31, 2023 - 08:12