Comics / Manga / Yaoi Manga
I've Moved Next Door to You (Yaoi)
By Leroy Douresseaux
June 18, 2010 - 19:50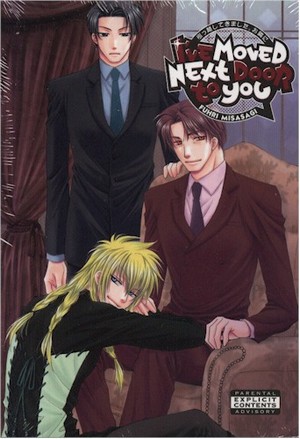 I've Moved Next Door to You cover image is courtesy of Anime Castle Books.
Rating: "18+ Mature Content"
Sometimes a love triangle can become a threesome, as seen in I've Moved Next Door to You, a yaoi manga from Fuhri Misasagi. A threesome, however, doesn't necessarily have to become a ménage à trois.
Takumi, a simply gorgeous looking guy, is a rising young business executive. Scratch that. He was a rising young business executive, but now he's on sick leave. His secretary, a handsome, but stern young man named Kamoshida, finds a place for the dispossessed duo to live. It is a ramshackle apartment, however, and their next door neighbor, a lusty horn dog named Renji Asahi, keeps dropping by and forcing himself on Takumi. Renji also has his eye on Kamoshida, and Kamoshida may even harbor romantic feelings for Takumi, to which the taciturn young man would never give voice. So in this threesome, who is the odd man out – if there is one?
I'm giving I've Moved Next Door to You a high rating, but not because of the story, which is actually good. The narrative can be a bit flighty at times, bouncing from being poignant and dramatic to lusty and slapstick. All the characters have a lot of backstory, with more being revealed as the story progresses, but the author doesn't really delve into much of it. It's obvious that this manga would have made a good drama with all the baggage the characters have, but the affecting has to share space with the funny and the sexy. Speaking of sex… there's a lot of it here. Renji keeps forcing himself on Takumi, and Takumi sly puts up little resistance, giving the raunchiness a humorous tone.
I like I've Moved Next Door to You because the art is simply so pretty. Fuhri Misasagi puts the beauty in beautiful boy. Misasagi's soft line work gives the characters' figures a sexy, relaxed aura, and it also gives the faces of the characters an elasticity. This manga looks like a catalog of cartooned facial expressions, and every panel of a sex scene shows the reader something new when it comes to ecstasy etched on a character's face. Whatever the story's faults are, it comes to life as a playful and sexy graphic narrative because of the exceptional illustrations.
I've Moved Next Door to You will make many readers want more Fuhri Misasagi.
A-
For more me, visit www.negromancer.com.
Last Updated: August 31, 2023 - 08:12