Comics / Manga / Yaoi Manga
Duo Brand's Isle of Forbidden Love (Yaoi)
By Leroy Douresseaux
June 26, 2010 - 07:53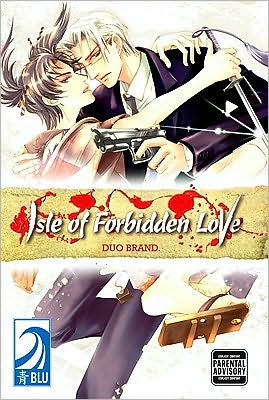 Isle of Forbidden Love cover image is courtesy of barnesandnoble.com
Rating: "M" for "Mature"
Isle of Forbidden Love is a yaoi manga from Duo Brand (the pen name of the manga-ka duo, Haruka Akatsuki & Nobuyoshi Watanabe). Set in Edo Japan, it is a love story born of a homicide investigation.
Young Aki is a jittemochi, a commoner who has the authority to make arrests on behalf of the local police. Aki has always been proud of his job protecting Edo, his home, but now, fear grips the city. Aki is investigating a series of strange murders. Each body is found with a single small hole in the chest and nothing more, but there is an identical hole burned through the victim's kimono.
Making his rounds, Aki has a chance encounter with a man he is sure saved his life as a child. The man, whose name is Kuga, insists that he's never met Aki, so he couldn't be his savior. Aki can't shake the feeling that he knows Kuga, a man with a shroud of mystery about him. Kuga uses strange terms, and he seems to have insight into the serial murders that plague Edo. Once again, chance intervenes and Aki makes a shocking discovery about Kuga that will shatter Aki's view of the world.
THE LOWDOWN: It begins as a love-at-first-sight romantic drama with a murder mystery as the backdrop. It drifts into alternate universe science fiction, which with the romance as the backdrop. Then, it's back to crime scene investigation before moving to the bedroom where someone gets his cherry popped.
Sounds schizophrenic, right? But Isle of Forbidden Love is an exciting read. It's mixture of several genres means that the narrative is clunky with no rhythm for a while. Once, the reader understands Isle of Forbidden Love's peculiar cadence, it becomes a page-turning delight. And like the perfect yaoi manga, it ends with some hot, sweaty, sex.
POSSIBLE AUDIENCE: Readers looking for genre-crossing yaoi will get their genre fix with Isle of Forbidden Love.
B+
For more me, visit www.negromancer.com where I talk about movies.
Last Updated: August 31, 2023 - 08:12