InuYasha: Volume 54
By Leroy Douresseaux
Nov 9, 2010 - 8:10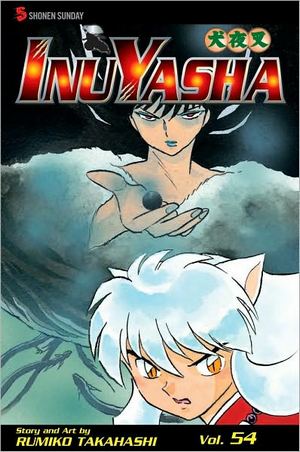 InuYasha Volume 54 cover image is courtesy of barnesandnoble.com.
Rated "T+" for "Older Teen"
Kagome is a modern-day high school girl who finds herself pulled down a well and transported into Japan's past – the "Warring States" era. There, she meets the dog-like, half-demon/half-human, InuYasha, and frees him from a trap. Bound together by a powerful spell, Kagome and InuYasha battle to reclaim the shards of the shattered, legendary Shikon Jewel.
As InuYasha, Vol. 54 opens, the demon Naraka has reformed the Shikon Jewel, after obtaining all the shards. Now, he begins to absorb the jewel and its immeasurable power. The entire cast: Kagome, InuYasha, Sesshomaru, Miroku, Sanga, and Kohaku fly into the now giant Shikon Jewel to battle Naraka. However, the sly demon divides himself and begins manipulating his attackers, which pits some of the heroes against each other.
THE LOWDOWN: Now, I think I understand at least one reason comics readers around the world love them some Rumiko Takahashi. Her narratives are very inviting to readers, who can enter the story at practically any point and quickly understand the overall plot. It is as if Takahashi is a welcoming host, always opening her door to newcomers. Her beautiful, clean drawing style and imaginative storytelling exemplify the purest form of graphical storytelling and comics.
POSSIBLE AUDIENCE: Obviously, fans of Rumiko want InuYasha, but readers looking for good fantasy comic books will also like this.
A-
Last Updated: Jun 26, 2018 - 9:28