Dean Koontz & Queenie Chan's In Odd We Trust
By Leroy Douresseaux
Jun 30, 2008 - 8:37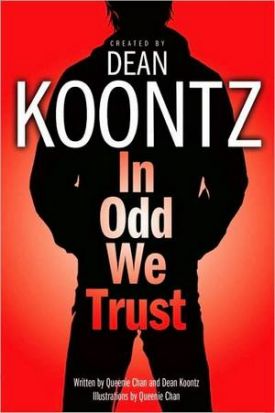 Thanks to barnesandnoble.com for the cover image to In Odd We Trust.
The character, "Odd Thomas," is the creation of prolific bestselling author Dean Koontz. Odd, who can see the dead, first appeared in the 2003 novel, Odd Thomas, and later, in Forever Odd (2005), Brother Odd (2006), and the recent Odd Hours (May 2008).
Born in Hong Kong, Australian Queenie Chan has been at the forefront of the OEL manga movement – sometimes called "Global Manga." OEL manga is inspired by Japanese comics (called "manga"), but produced outside Japan, in countries including the U.S., Germany, Great Britain, and France, among others. Chan's three-volume OEL series, The Dreaming, has drawn widespread critical acclaim, in addition to being translated into four languages.
Chan joins Dean Koontz to produce the new OEL manga/graphic novel, In Odd We Trust. Acting as a prequel to the first prose novel, Odd Thomas, In Odd We Trust expands the character Odd's back story. In Odd We Trust finds Odd Thomas a regular 19-year-old living in the sleepy small city of Pico Mundo, California. Working at a local diner as a cook, he practically owns everyone's appetite with his beloved pancakes.
However, Odd's other gift: the ability to see the lingering spirits of the dead, takes center stage when the sad specter of local boy finds his way to him. The boy, Joey Gordon, was recently found brutally murdered in his home. Now, Odd has been drawn into a police investigation of a faceless child killer who sends stranger letters threatening to kill more children. With his pistol-packing girlfriend, Stormy Llewellyn, at his side, Odd searches for an arrogant murder, but Odd's special ability may be no match for the evil that has settled into Pico Mundo.
[This book contains an excerpt of Dean Koontz's novel, Odd Thomas, and some sketchbook material by Queenie Chan.]
THE LOWDOWN: For the most part, there isn't anything exceptional about In Odd We Trust's plot and story that would separate it from any generic episode of television series like "Ghost Whisperer," "Medium," or even "Murder, She Wrote." This is however, a comic book, and visuals – the art – are what move everything. Queenie Chan is quite good, to say the least, at telling stories via comic books/manga and is a master (mistress?) at creating pitch perfect atmosphere for mystery and suspense. Her art gives In Odd We Trust that something special that brings the oddness to live.
Chan easily captures the … well, odd nature of Odd Thomas, both physically and in the peculiar aura that seems to surround the character. When the narrative suggests that the killer is some loser with delusions of grandeur, that exactly what Chan gives us; I took one look at character and I believed in everything the narrative told me about him. Chan visualized the perfect arrogant, killer idiot.
Chan also has the ability to make each of her panels come across as a window into an actual 3D set. The sense of space, depth, texture, atmosphere, etc. makes something like a tactile experience for your eyes. Chan draws in a way that allows your imagination to walk into a panel and to feel and live the world she creates through her art. This technique can really bring the reader into the story because the reader will engage each panel and also be more interested in the unseen action between panels. Such strong visual storytelling chops mean that we have to continually watch this fast rising talent.
POSSIBLE AUDIENCE: Those who are in need of a murder mystery will find it here.
A-
Last Updated: Jun 26, 2018 - 9:28