Image Comics Announces New "FireBreather"
By The Editor
September 28, 2010 - 19:58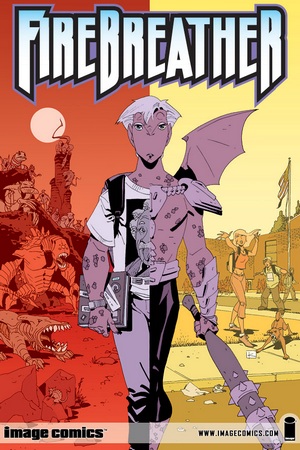 FireBreather: Holmgang #1 cover image
DUEL WITH DESTINY
FIREBREATHER VOL. 3: HOLMGANG #1 roars onto shelves this December
Life's hard enough when you're a human. But what if you're half human and half dragon?!
Teenager Duncan Rosenblatt has a human mother and a giant, city-stomping, kaiju father. He also has all the worries of a normal high schooler, from bullies to girls to fitting in. His adventures continue on December 1, 2010, with the release of FIREBREATHER VOL. 3: HOLMGANG #1 from Image Comics.
Written by Phil Hester and drawn by Andy Kuhn, FIREBREATHER VOL. 3: HOLMGANG picks up where FIREBREATHER VOL. 2 left off: Duncan deals with not only losing his father but with keeping his father's death a secret, even from his mother. But Duncan's mysterious extended family may not let him keep that secret -- or his life -- much longer.
"It feels great to be back in the saddle on Firebreather." says Hester. "There's a great deal of Duncan's story left to tell, and we're thrilled that Image has given us free reign to do so. Andy Kuhn is pulling out all the stops on the art and Bill Crabtree is doing the best work of his career on colors. I can't wait for you all to see this."
"Phil Hester is one of the best writers in comics," adds Kuhn, "and I'm proud to be drawing the next chapter in the Firebreather saga. Every script I get is better than the last. Strap yourselves in, this is gonna be one helluva ride!"
FIREBREATHER VOL. 3: HOLMGANG #1 (of 4) (OCT100443), a 32-page full-color comic book for $3.99, will be in stores December 1, 2010. FIREBREATHER VOL. 1: GROWING PAINS ($14.99, APR090360) and FIREBREATHER VOL. 2: ALL THE BEST HEROES ARE ORPHANS ($16.99, AUG082239) are available now. Firebreather joins forces with Ron Marz's Dragon Prince in FIREBREATHER VS. DRAGON PRINCE, a 120-page full-color one shot for $7.99 that will be in stores November 17, 2010. Finally, don't miss the FIREBREATHER movie, premiering on Cartoon Network this November!
Last Updated: February 5, 2023 - 09:06