Image Comics Announces Elephantmen One-Shot
By The Editor
July 18, 2010 - 11:26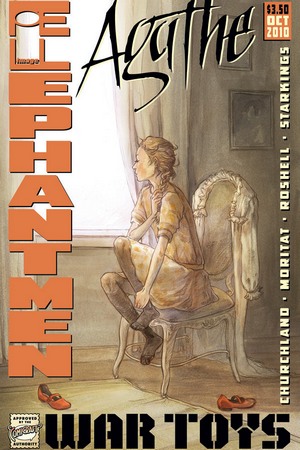 Elephantment: War Toys: Agathe cover image
THE PERFECT SOLDIER
Marian Churchland returns to ELEPHANTMEN for War Toys one-shot
Russ Manning Award finalist Marian Churchland is returning to ELEPHANTMEN this October with the one-shot ELEPHANTMEN, WAR TOYS: AGATHE. Image Comics will release the book, written and drawn by Churchland with inks by Moritat, on October 20, 2010.
"I'm thrilled to have the chance to revisit one of ELEPHANTMEN's strongest characters, Yvette," says Churchland. "She's fierce, and she's formidable. Best of all, try as you might, she never relinquishes her inherent mystery."
In ELEPHANTMEN: WAR TOYS ONE SHOT, French resistance fighter Yvette has survived the stunning conclusion of ELEPHANTMEN: WAR TOYS, VOL. 1. As Yvette recovers from her injuries in a small village in Norway, the family that nurses her starts to wonder whether or not they have made the right decision...
ELEPHANTMEN, WAR TOYS: AGATHE, a 32-page full-color one-shot for $3.50, will be available October 20, 2010. Also available are ELEPHANTMEN VOL. 1: WOUNDED ANIMALS, ELEPHANTMEN VOL. 2: FATAL DISEASES, and ELEPHANTMEN VOL. 3: DANGEROUS LIAISONS, which collect the ongoing series.
Last Updated: February 5, 2023 - 09:06