I'll Give it My All... Tomorrow: Volume 3
By Leroy Douresseaux
May 13, 2011 - 13:09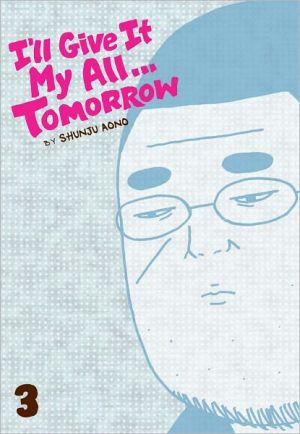 I'll Give it My All... Tomorrow Volume 3 cover image is courtesy of barnesandnoble.com.
Rated "T+" for "Older Teen"
Shizuo Oguro was a 40-something salaryman. He quit his corporate drone job in order to pursue his dream of becoming a published manga artist. Shizuo is also on a journey of self-discovery, which means that his high school-age daughter, Suzuka, and his father, Shiro, support him. Shizuo lacks the talent, discipline, and skill to be a mangaka (manga creator), but he won't let that stop him.
As I'll Give it My All… Tomorrow, Vol. 3 begins, Shizuo's father, Shiro, comes right out and tells his son to take a new approach to becoming a manga artist – treat it like a hobby. Shiro wants Shizuo to do something – anything – that won't make him look like a loser. Coincidentally, Shizuo's bottomless capacity for self-doubt brings on an existential crisis, complete with a visit from several versions of his younger self.
Meanwhile, Masaki Murakami, the editor of the manga magazine, EKKE, helps Shizuo to his first big break. Things are looking way up… at least for a little while.
THE LOWDOWN: While I'll Give it My All… Tomorrow is a character drama and not really a drama about creating manga, following Shizuo's journey into the world of manga publishing makes for great reading – especially this volume. Still, the focus of this book is plumbing the depths of people's self-doubt and depicting their existential angst.
You may find yourself being uncomfortable with how familiar Shizuo feels (as I know I do). His struggles with a career, his doubts about his choices, the anxiety in his belief that he is running out of time, and his desperation in putting a happy face on everything are universal. The bonus is that creator Shunju Aono also gives us a similar look at the supporting characters, although to a lesser degree. That's a lot of excellent character drama.
POSSIBLE AUDIENCE: Readers looking for a good life drama with lots of comedy will enjoy I'll Give it My All… Tomorrow.
A-
Last Updated: August 31, 2023 - 08:12