I'll Give it My All... Tomorrow: Volume 2
By Leroy Douresseaux
December 24, 2010 - 10:39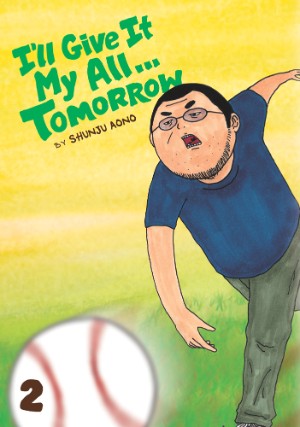 I'll Give it My All... Tomorrow Volume 2 cover image is courtesy of barnesandnoble.com.
Rated "T+" for "Older Teen"
Shizuo Oguro is a 40-something salaryman who quits his corporate drone job in order to pursue his dream of becoming a published manga artist. He is also on a journey of self-discovery, which means that his high school-age daughter, Suzuka, and his father, Shiro, support him. Shizuo lacks the talent, discipline, and skill to be a mangaka (manga creator), but he won't let that stop him.
I'll Give it My All… Tomorrow, Vol. 2 finds Shizuo still at H Burgers, a fast food joint where all his coworkers are younger than him. However, his manga career seems to be moving in a positive direction. He also gets to use his regular visits to the editorial offices of manga publisher, Ekke, to visit a female editor who showed him some attention. Shizuo gets a new roommate, after falling out with his father. The story also delves into the recent past of his new pal, Shuichi Ichinosawa.
THE LOWDOWN: Truthfully, I'll Give it My All… Tomorrow is a character drama and not really a drama about creating manga. The hook of Shizuo chasing the dream of being a manga creator is really just a subplot; plus, it's an easy way to describe this series, although such a description is incomplete. However, the sparkling supporting cast is so strong that it turns this series into an ensemble drama that is by turns humorous, poignant and satirical. Readers should give this new series a chance to delightfully surprise them.
POSSIBLE AUDIENCE: Readers looking for a good life drama with lots of comedy will enjoy I'll Give it My All… Tomorrow.
A-
Last Updated: August 31, 2023 - 08:12