I'll Give it My All... Tomorrow: Volume 1
By Leroy Douresseaux
May 23, 2010 - 21:19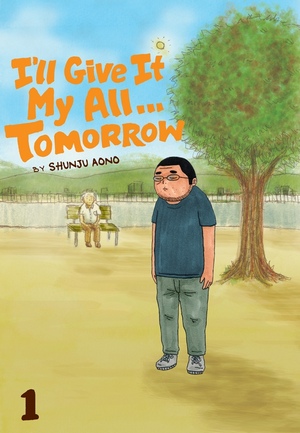 I'll Give it My All... Tomorrow Volume 1 cover image
Rated "T+" for "Older Teen"
Forty-year old Shizuo Oguro quits his corporate drone job and decides to pursue his dream. What is that dream? Shizuo wants to be a manga artist – a published manga artist. He lives with his patient high school-age daughter, Suzuka, and his critical father. Shizuo lacks the talent, discipline, and skill to be a mangaka (manga creator), but that won't stop him.
In I'll Give it My All… Tomorrow, Vol. 1, Shizuo gets a job at H Burgers, a fast food joint where all his coworkers and even the manager is much younger than him. However, regular visits to the editorial offices of manga publisher, Ekke, give him hope of being published, if he can overcome artist's block and his own laziness.
THE LOWDOWN: It should be no surprise that a series about a lovable loser like Shizuo Oguro is, at the very least, an enjoyable read. What makes I'll Give it My All… Tomorrow even better is a sparkling supporting cast. This includes Shizuo's bemused and irritated patient daughter, his lovably critical dad, and a young coworker who says "like" every word.
I don't think the series rests on Shizuo's determination to succeed. Rather, creator Shunju Aono will mine much entertainment out of the fact that Shizuo seems oblivious to common sense and reality. It will be fun to follow this series to see just how big a disaster Shizuo's plan will turn out to be. Or will he win in the end?! I see a "Best New Series" Eisner Award nomination in I'll Give it My All… Tomorrow's future.
POSSIBLE AUDIENCE: Readers looking for a good life drama with lots of comedy will enjoy I'll Give it My All… Tomorrow.
A-
Last Updated: August 31, 2023 - 08:12