Idol Dreams: Volume 3 manga review
By Leroy Douresseaux
September 22, 2016 - 22:58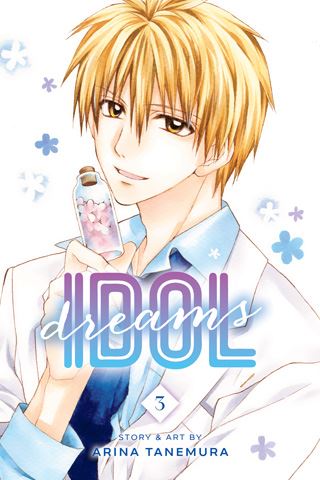 Idol Dreams Volume 3 cover image
Rated "T" for "Teen"
Chikage Deguchi
believes that she has missed out on love and success. During her high school reunion, the 31-year-old office worker is revealed to still be a virgin. She is humiliated, but Chikage gets a chance to be 15-years-old again. Thanks to weird science, Chikage can transform into a teen with the help of high school friend,
Tokita
. She takes the name "
Akari
," and on her first day being a teen, a chance at stardom comes her way, but is Chikage really ready to change... everything?
As
Idol Dreams

, Vol. 3
(Chapters 11 to 15) opens, Chikage learns that her former high school classmte,
Haru Kunitachi
, is in love with her. If she thinks about the past, that should be obvious. However, Haru's declaration causes feelings of conflict and maybe even jealousy in Tokita. Is it time for him to reveal some true feelings?
THE LOWDOWN:
The world of comics is in a good place when we have new comics from mangaka
Arina Tanemura
. The
Idol Dreams
manga... well, I love it. Even if this "magical girl" manga was not for adult readers (which it is), I'd want to read it anyway.
Idol Dreams Volume 3
had so many revelations that it made me dizzy. Clearly, Tanemura plans on trapping Chikage Deguchi in a snare of young love, even as she is already stuck in a web of deceit. Her problems are reader gold, and I might be worshiping this manga as if it were a gold idol by the time the love matters are settled.
POSSIBLE AUDIENCE:
Fans of Arina Tanemura are the target audience for the Shojo Beat title,
Idol Dreams
.
A
Rating: A /10
Last Updated: August 31, 2023 - 08:12