Idol Dreams: Volume 2 manga review
By Leroy Douresseaux
March 3, 2016 - 22:09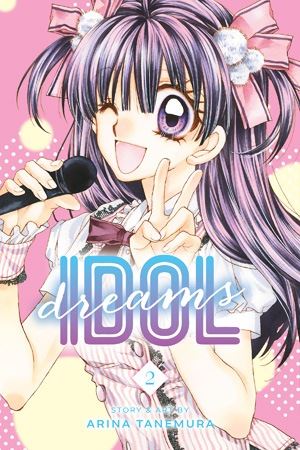 Idol Dreams Volume 2 cover image
Rated "T" for "Teen"
Chikage Deguchi is an office worker who believes that she has missed out on love and success. During her high school reunion, it is revealed that she is 31-year-old virgin. She is humiliated, but Chikage gets a chance to be 15-years-old again. Thanks to weird science, Chikage can transform into a teen with the help of high school friend, Tokita. She takes the name "Akari," and on her first day being a teen, a chance at stardom comes her way, but is Chikage really ready to change... everything?
As Idol Dreams, Vol. 2 (Chapters 6 to 10) opens, Tokita remembers how important Deguchi's friendship was to him, but does he realize how important she is to him now? Meanwhile, Deguchi is having lunch with her coworkers, but the attitude of one fellow employee reveals that adult Deguchi has not changed.
Not long after transforming back into 15-year-old teen idol, Akari, she learns that she must compete with another female teen idol, Yuko Nikaido. The winner gets to have Hibiki Maido as her producer, but Akari does not like competition. She does, however, find herself liking Hibiki.
[This manga includes "Long, Long Shojo Manga Artist Interview," with Arina Tanemura.]
THE LOWDOWN: What would the world of comics be like without something new from mangaka Arina Tanemura? The Idol Dreams manga keeps us from having to face such a terrible reality. This "magical girl" manga for adult readers is, of course, more than just another shojo manga
Idol Dreams Volume 2 proves that Vol. 1 was no fluke. I am shocked at how funny this is. It may be the funniest Tanemura manga that I have ever read, and the ensemble cast is superb. I cannot get enough of them. Idol Dreams is entitled Thirty One Idream in Japan, and I wish I only had to wait 31 days for the next volume. The central conceit (a pill that magically makes a woman a teen girl again) might be silly, but the characters are so good that I have absolutely no problem suspending disbelief. This is no idle recommendation; read Idol Dreams.
POSSIBLE AUDIENCE: Fans of Arina Tanemura are the target audience for the Shojo Beat title, Idol Dreams.
A
Last Updated: August 31, 2023 - 08:12