I Am Here: Volume 1
By Leroy Douresseaux
December 3, 2010 - 13:43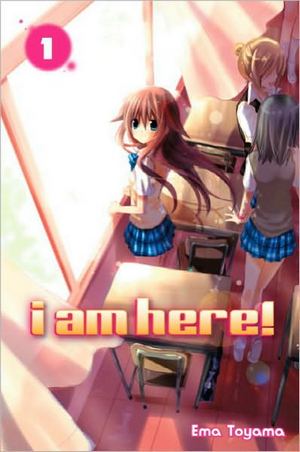 I Am Here cover image is courtesy of barnesandnoble.com.
Rating "T" for "Ages 13+"
Eighth grader Hikage Sumino has been practically invisible to her classmates. Her only friends are "Mega Pig" and "Black Rabbit," two visitors to her blog. They give her advice and try to help her come out of the darkness and into the sunshine. She'll need their help when the most popular boy in school, Hinata, talks to her.
I Am Here!, Vol. 1 collects the first three Japanese volumes of the manga by Ema Toyama. This collection will give readers the chance to spend just under 400 pages rooting for a middle school student who should not let herself be ignored and marginalized anymore.
While Toyama draws I Am Here! in a style similar to what some manga-ka use for shojo romance manga, this is a drama about a heroic journey of sorts. The characters are mostly familiar types, but the mean girls are some of the meanest around and the cute boys do a little bit more than just be eye candy. Sumino is a well-drawn heroine, and her problems will seem real to many readers, as they recognize the dilemmas and obstacles she faces. Some readers may even stand up with her and also declare, "I am here!"
B+
Last Updated: August 31, 2023 - 08:12