Hyde & Closer: Volume 7
By Leroy Douresseaux
January 8, 2012 - 13:47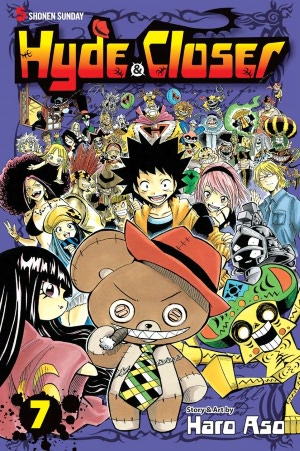 Hyde and Closer Volume 7 cover image is courtesy of barnesandnoble.com.
Rated "T+" for "Older Teen"
Shunpei Closer is a less-than-average middle school student and a loser and has low self-esteem. Suddenly, he becomes the target of sorcerers all around the world. Why? The answer is because his grandfather is Alsyd Closer, the Sorcerer King. With his grandfather's gift – Hyde the chainsaw-wielding teddy bear – at his side, Shunpei battles the forces of darkness and makes lots of friends.
With Hyde and Closer, Vol. 7, the series comes to a close. Now, Shunpei faces his final enemy, the Watcher in the Window, who is plotting to use the curse item, Ressentiment," to destroy humankind. Shunpei and company head to Africa, where Shunpei's grandfather is holding the line against Armageddon. With his erstwhile girlfriend, Uryu Tatsumi, at his side, Shunpei takes the battle to the Watcher.
THE LOWDOWN: This is my first experience with Hyde & Closer, but I can tell that it would have been a blast to read from the beginning. While this is a fantasy series and many of the characters are sorcerers or magic-using types, this isn't Harry Potter. This is a battle manga with spells flying as fast as fists.
Like many shonen manga, the series is blessed with many eccentric, odd, and imaginative characters. Despite its "T+ - Older Teens" rating, Hyde & Closer is a manga that can be read by younger teens and even preteens. The final battle decides to be a tale of tragedy, redemption, and morality. That surprised me. Hyde & Closer is more than I expected it to be.
POSSIBLE AUDIENCE: Readers looking for action fantasy for young readers may want to try Hyde & Closer.
B

Last Updated: August 31, 2023 - 08:12