Hunter x Hunter: Volume 32 manga review
By Leroy Douresseaux
Apr 30, 2014 - 17:42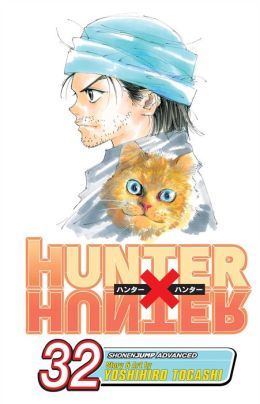 Hunter x Hunter Volume 32 cover image is courtesy of barnesandnoble.com.
Follow Leroy on Twitter.
Rated "T+" for "Older Teen"
Hunters are a special breed. They are devoted to tracking down priceless items, treasures, mystical places, magical beasts, and even other people. Prospective Hunters must take a highly selective licensing exam, but only 1 in 100,000 can pass this grueling qualification exam. This will give them access to restricted areas and amazing stores of information and the right to call themselves "Hunters." Gon Freecss dedicates himself to being a great Hunter like his father, Ging Freecss.
As Hunter × Hunter, Vol. 32 (entitled Crushing Defeat – Chapters 331 to 340) opens, the 13th Chairman General Election continues. Ging Freecss, Gon's father, gives chairman candidate, Cheadle, advice on winning the election, and that involves watching rival candidate, Pariston. Will he take the advice that he meet his son?
Meanwhile, Gon's friend, Killua Zoldyck, brings his sister, Alluka, to the hospital where Gon lies in a coma. Can the terrifyingly powerful Alluka and her other side, Nanika, save Gon in time? Killua's brother, Illumi, also moves to control their sister. Back at the election, one of the candidates declares that he only cares about saving Gon.
THE LOWDOWN: In past reviews of the Hunter × Hunter manga, I've called the series a "Bizarro" version of Naruto. Creator Yoshihiro Togashi has certainly created a weird one, but Hunter × Hunter is both an imaginative and engaging read.
The best thing about Hunter × Hunter is that it never seems to be the same thing, not in terms of story, art, or graphical storytelling. It is eclectic, and it can be surprisingly poignant. Chapter 339, entitled "Stillness," is a beautiful expression of the countless ways people can enjoy experiencing the good things and the beauty of life.
POSSIBLE AUDIENCE: Readers looking for off-beat shonen will want to try the Shonen Jump Advanced title, Hunter × Hunter.
Rating: A- /10
Last Updated: Jun 26, 2018 - 9:28