Comics / Manga / Yaoi Manga
How to Seduce a Vampire (Yaoi)
By Leroy Douresseaux
April 29, 2010 - 14:05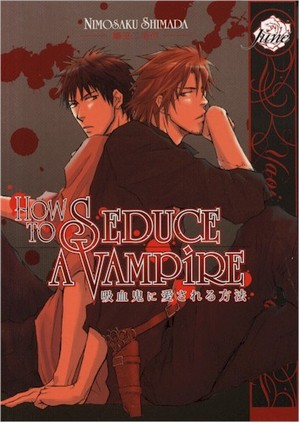 How to Seduce a Vampire cover image is courtesy of Anime Castle Books.
Rated "16+ for Young Adult"
Centuries of history unite in the unusual love story, How to Seduce a Vampire, from creator Nimosaku Shimada. This boys' love tale also involves vampires and enchanted swords.
On the way to his part-time job, Masatsuna Watanabe stops to help an injured man collapsed on a bridge. His selfless deed gets him bitten by the vampire, Kureha Mizuo. Although the bite benefits Mizuo, it doesn't harm Watanabe. After Watanabe loses his job, Mizuo offers him a new one at his all-night salon, Jackalope.
Accepting the job plunges Watanabe into a world of demons, demon-killing swords, and shadowy customers, including Mizuo's mysterious vampire pal, Lon-Yeh. Watanabe feels danger lurking whenever he is near Mizuo, but he also feels drawn to his beautiful boss. The two are also tied together by Watanabe's bloodline, a bond that could destroy Mizuo.
THE LOWDOWN: There is a line in the back cover copy of How to Seduce a Vampire that asks, "And who on earth needs a shampoo and haircut at midnight?" I thought the same thing while reading the back cover, but the salon is merely one of this manga's settings. How to Seduce a Vampire is a supernatural romance, and in a way, it is like Stephenie Meyer's Twilight series (and yes, I'm a fan.). Like Twilight, How to Seduce a Vampire focuses on a romance between a human and a vampire and also features supernatural action and intrigue.
The difference, of course, is that this is a boys' love manga and the lovers are both males. While there is some sex, the focus is on the romance or the growth of a newly born romance. Most of this single-volume tale focuses on Watanabe and Mizuo working through the bumps and trials of discovering each other. There is also some nice period drama that acts as back story. I wouldn't call this a great title, but its mix of supernatural romance and historical fiction makes for interesting reading. In fact, How to Seduce a Vampire is worthy of having a sequel.
POSSIBLE AUDIENCE: Readers looking for quality vampire romance will find it in How to Seduce a Vampire.
B+
For more of me, visit www.negromancer.com
Last Updated: August 31, 2023 - 08:12