Honey So Sweet: Volume 8 manga review
By Leroy Douresseaux
December 5, 2017 - 18:54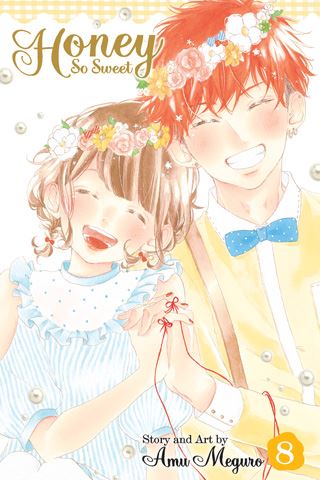 Honey So Sweet Volume 8 Graphic Novel cover image
Rated "T" for "Teen"
One day,
Nao Kogure
left her umbrella and a box of bandages for a fellow student who was injured. Little did she know that this day in middle school would be special because she would meet that student again in high school. His name is
Taiga Onise
, a delinquent, and Nao wants nothing to do with this gruff and frightening teen boy. However, Taiga suddenly presents Nao with a huge bouquet of flowers and asks her to date him – with marriage in mind! Is Taiga really so scary, or is he a sweetheart in disguise?
As
Honey So Sweet

, Vol. 8
(Chapters 33 to 40) begins, Nao and Taiga enter their final year in high school. They are as lovey-dovey as ever, but Nao is about to discover that her uncle,
Sousuke
("
Sou
"), who has been her guardian since her parents died, was also once in love. Now, eight years later, that woman,
Aoi Minamino
, decides to visit Sou. Why has she returned now, and what does she want from Sou? Nao worries that she is the reason Sou and Aoi broke up; meanwhile, Taiga decides to make an important announcement.
[This volume includes the bonus manga, "Sugar," the short story that was the precursor to Honey So Sweet.]
THE LOWDOWN:
The Honey So Sweet manga is indeed so sweet, but all honey-sweet things must come to an end. Yes, creator
Amu Meguro
offers a happy ending; this is 'tween and teen high school shojo manga romance, after all.
Honey So Sweet Volume 8
is the final graphic novel in the series. I have never thought of this manga as a great work of comics storytelling. Still, Meguro always offered the tart with the sweet, and happiness and sadness were fraternal twins in this narrative. This manga has a bit of an edge, just enough to keep the reader wondering if this couple would make it to the happy end. The best example of the edge was Miyabi Nishigaki, the interloper after Taiga's attentions.
Well, we have reached the sweet finish line. My final assessment is that Honey So Sweet is worthy of staying alive on the back list for new readers to discover its beautiful artwork on a honey of a story.
I READS YOU RECOMMENDS:
Fans of "Shojo Beat" high school romances will want to try a taste of
Honey So Sweet
.
A
8 out of 10
Rating: 8 /10
Last Updated: August 31, 2023 - 08:12