Honey So Sweet: Volume 5 manga review
By Leroy Douresseaux
January 14, 2017 - 11:54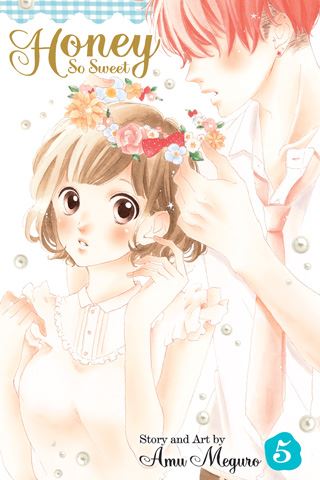 Honey So Sweet Volume 5 cover image
Rated "T" for "Teen"
Nao Kogure
was in middle school when she left her umbrella and a box of bandages for a fellow student who was injured. Little did she know that she would meet that student again in high school. His name is
Taiga Onise
, a delinquent, and Nao wants nothing to do with the gruff and frightening teen boy. However, Taiga suddenly presents Nao with a huge bouquet of flowers and asks her to date him – with marriage in mind! Is Taiga really so scary, or is he a sweetheart in disguise?
As
Honey So Sweet

, Vol. 5
(Chapters 21 to 25) begins, Nao and Taiga plan a romantic
Christmas
. When their friends discover the festivities, they want in on the holiday fun. Although the party ends early, Nao and Taiga find themselves interrupted again – by Taiga's mom. Plus, Nao and her guardian, Sou, have a falling out.
THE LOWDOWN:
The
Honey So Sweet
manga has a decidedly tart side, but not always. Sometimes creator
Amu Meguro
can pour the cocoa.
Honey So Sweet Volume 5
is indeed sweet and also cute. Meguro makes the best of Christmas to play with romance and drama concerning love and gentle family feuds. That not enough for you? We even get some Valentine's Day fun. I didn't think a plot about a first kiss could still make me smile.
I READS YOU RECOMMENDS:
Fans of "Shojo Beat" high school romances will want to try a taste of
Honey So Sweet
.
A-
Rating: A- /10
Last Updated: August 31, 2023 - 08:12