Honey So Sweet: Volume 3 manga review
By Leroy Douresseaux
July 27, 2016 - 19:35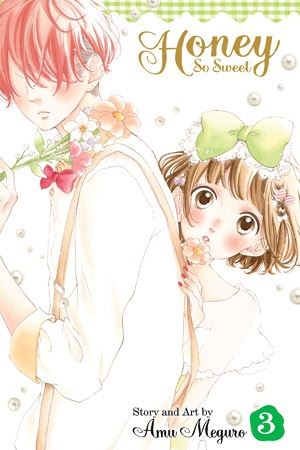 Honey So Sweet Volume 3 cover image
Rated "T" for "Teen"
Nao Kogure
was in middle school when she left her umbrella and a box of bandages for a fellow student who was injured. Little did she know that she would meet that student again in high school. His name is
Taiga Onise
, a delinquent, and Nao wants nothing to do with the gruff and frightening teen boy. However, Taiga suddenly presents Nao with a huge bouquet of flowers and asks her to date him – with marriage in mind! Is Taiga really so scary, or is he a sweetheart in disguise?
As
Honey So Sweet

, Vol. 3
(Chapters 11 to 15) begins, Onise plans to celebrate his two-month anniversary with Nao. Trouble is on the horizon, however. Onise's friend,
Ayumu Misaki
, wants Nao to be his girlfriend. Misaki is so bold that he tells Onise that he is going to take Nao away from him.
[This volume includes the bonus manga, "My First Errand."]
THE LOWDOWN:
The
Honey So Sweet
manga has a decidedly tart side. Yes, Nao and Onise are a kind of shy, cutesy couple, but their relationship is filled with the same complications that cooler, fictional romantic couples could face. For instance...
Honey So Sweet Volume 3
interjects a romantic male rival. This tart is no dessert, as creator
Amu Meguro
pushes "the other guy," one who just might take Nao away. I don't really believe that, but the storytelling is good enough to make me worry. I do find this
Honey So Sweet
. As always I am an easy mark for shojo high school romance.
POSSIBLE AUDIENCE:
Fans of "Shojo Beat" high school romances will want to try a taste of Honey So Sweet.
A
Rating: A /10
Last Updated: August 31, 2023 - 08:12