Honey So Sweet: Volume 2 manga review
By Leroy Douresseaux
April 1, 2016 - 13:38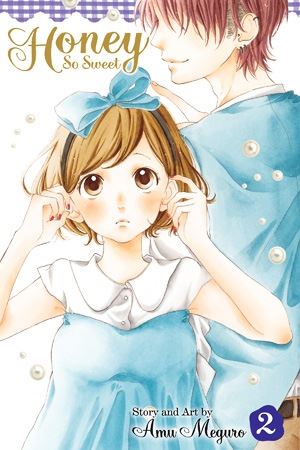 Honey So Sweet Volume 2 cover image
Rated "T" for "Teen"
One day, when she was in middle school,
Nao Kogure
left her umbrella and a box of bandages for a fellow student who was injured. Little did she know that she would meet that student again in high school. His name is
Taiga Onise
, a delinquent, and Nao wants nothing to do with the gruff and frightening teen boy. However, Taiga suddenly presents her with a huge bouquet of flowers and asks her to date him – with marriage in mind! Is Taiga really so scary, or is he a sweetheart in disguise?
Honey So Sweet

, Vol. 2
(Chapters 6 to 10) finds Nao in need of some girl talk, so she turns to new friend, the taciturn
Kayo Yashiro
, for answers. What is the feeling that Nao is experiencing? Is she falling in love with Onise? Or is she in love with her Uncle
Sou
, who has been her guardian since her parents died? Apparently, Onise is also experience confusing feelings.
THE LOWDOWN:
After reading the first volume, I did not quite understand why the
Honey So Sweet
manga is entitled
Honey So Sweet
, especially when it seemed to have a decidedly tart side. That isn't a bad thing. Shojo manga should have some tart to go with the sweet, although I don't know that I could tolerate sweet and sour or even sweet and pungent.
Honey So Sweet Volume 2
is a lovely drink – an airy confection that I could drink over and over again. Now, towards the end of Vol. 2, a bit of darkness begins to creep into the narrative via a new character. Still,
Amu Meguro
offers a delicate line and intricate compositions, and her's is an art style that I just cannot resist.
POSSIBLE AUDIENCE:
Fans of "Shojo Beat" high school romances will want to try a taste or two of
Honey So Sweet
.
A
Rating: A /10
Last Updated: August 31, 2023 - 08:12