Honey So Sweet: Volume 1 manga review

By Leroy Douresseaux
December 28, 2015 - 22:52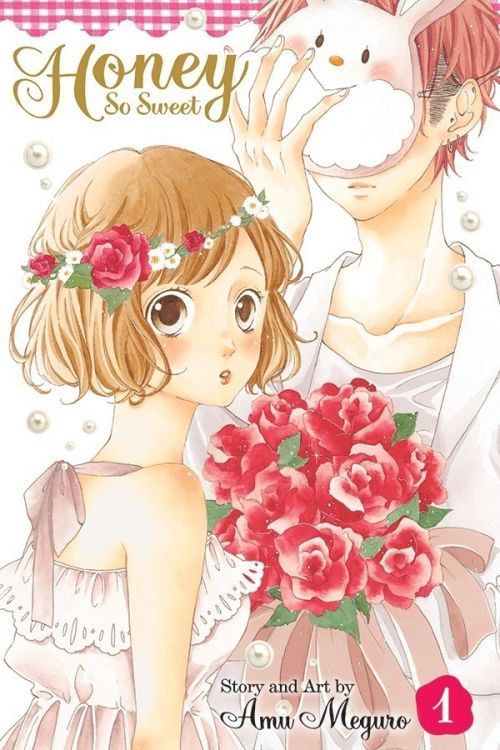 Honey So Sweet Volume 1 cover image
Rated "T" for "Teen"
One day in middle school,
Nao Kogure
left her umbrella and a box of bandages in the rain for a fellow student who was injured. Little did she know that she would meet that student again in high school. His name is
Taiga Onise
, a delinquent, and Nao wants nothing to do with the gruff and frightening teen boy. However, Taiga suddenly presents her with a huge bouquet of flowers and asks her to date him – with marriage in mind! Is Taiga really so scary, or is he a sweetheart in disguise?
Early in
Honey So Sweet

, Vol. 1
(Chapters 1 to 5), Nao discovers that Taiga actually smiles, is kind to animals, and is a good cook. Is he really the same Taiga who is a notorious delinquent? Before long, Nao discovers that everyone in school thinks that she and Taiga are a couple – a couple of outcasts.
THE LOWDOWN:
I don't quite understand why the
Honey So Sweet
manga is entitled Honey So Sweet. It is indeed a sweet romance, but it also has a decidedly tart side.
Honey So Sweet Volume 1
introduces three other characters besides Nao and Taiga. All five of these characters seem to speak their minds, for the most part. They are tart rather than sweet. I think that is what I like about Honey So Sweet. It is a typical high school shojo romance, but creator
Amu Meguro
is always adding that something extra, whether that is dialogue or action, that makes the narrative skip a beat. There are just enough minor twists to the shojo status quo to make this series an intriguing read. I recommend that fans of high school shojo try the first volume at least.
POSSIBLE AUDIENCE:
Fans of "Shojo Beat" high school romances will want try a taste or two of
Honey So Sweet
.
Rating: A- /10
Last Updated: August 31, 2023 - 08:12