Honey Blood: Tale 0 manga review

By Leroy Douresseaux
February 2, 2015 - 19:56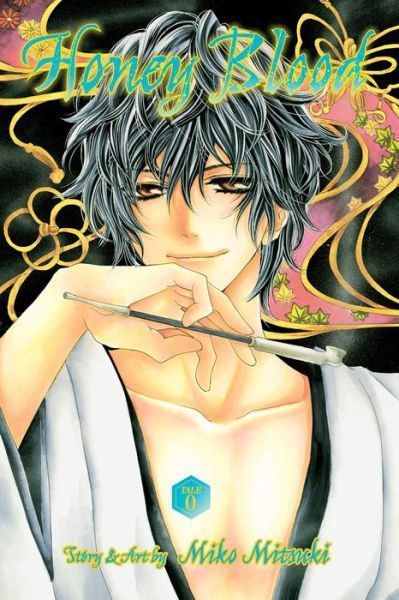 Honey Blood Tale 0 cover image is courtesy of barnesandnoble.com.
Follow me on
Twitter
.
Rated "T" for "Teen"
Honey Blood
is a vampire shojo manga created by
Miko Mitsuki
. The series focuses on
Hinata Sorazono
, a high school girl. All her classmates at
Sunshine Flower Girls' Academy
are in love with the vampire romance novel,
Until the Ends of the Earth
, and the series of novels it spawned.
Hinata is surprised to discover that her new neighbor is
Junya Tokinaga
, the author of Until the End of the Earth. Then, she also learns that Junya is actually a vampire and that with one simple kiss, he puts his fate and his life in Hinata's hands.
Honey Blood: Tale 0
is a stand-alone manga that collects three Honey Blood one-shot stories that predate the Honey Blood ongoing manga. The stories: "My Boyfriend is a...?!," "Until Dawn Comes," and "Until the End of Time," which were first published in 2008 and 2009, comprise the original version of the story that is Honey Blood.
"My Boyfriend is a...?!" finds 15-year-old Hinata Sorazono becoming curious about her new neighbor, Junya Tokinaga. Hinata is shocked when she walks in on Junya biting the neck of Hanazuka, his book editor. In "Until Dawn Comes," Hinata wants to have a normal relationship with her vampire boyfriend, Junya, but can vampires be normal? In "Until the End of Time," a movie is being made from Junya's novel, "
Night Love
," and Hinata finds herself caught in a rivalry between Junya and the movie's star,
Mariya Satomi,
a spoiled male model.
[This volume contains two bonus stories, "A Bouquet of Love for the Princess" and "First Love, Melting in the Night."]
THE LOWDOWN:
I read the first volume the Honey Blood manga. I was intrigued by its central conceit: when a vampire kisses his true love on the mouth, he can drink only her blood from that point forward. I prefer edgy shojo vampire romance manga like
Vampire Knight
and
Black Rose Alice
. Thus, I found Honey Blood a bit cutesy, although enjoyable to read.
For some reason, I enjoyed
Honey Blood Tale 0
a little more than I did Honey Blood Volume 1. These semi-primordial Honey Blood stories, however, are extra cutesy. In fact, Miko Mitsuki's work here is immature compared to the later Honey Blood manga. So I can't explain why I find this early manga endearing. Perhaps, I wanted Vol. 1 to be more cutesy and frilly?
POSSIBLE AUDIENCE:
Fans of Honey Blood will want
Honey Blood: Tale 0
.
Rating: B+ /10
Last Updated: August 31, 2023 - 08:12