Honey Blood: Volume 1 Advanced manga review

By Leroy Douresseaux
Sep 28, 2014 - 11:49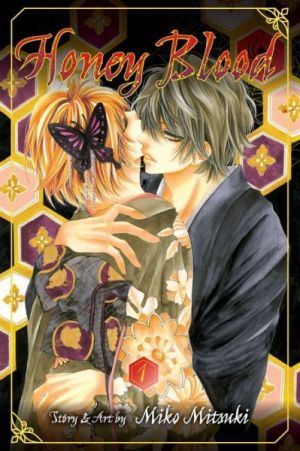 Honey Blood Volume 1 cover image is courtesy of barnesandnoble.com.
Follow me on
Twitter
.
Rated "T" for "Teen"
Honey Blood
is a new vampire shojo manga from VIZ Media. Created by
Miko Mitsuki
, the series follows a high school girl and the mysterious writer of vampire romance novels who might also have a taste for blood.
Honey Blood

, Vol. 1
(Chapters 1 to 5) opens as a female high school student becomes the latest victim in a string of attacks. In fact, all the victims are young women, and all have suffered massive blood loss, although none of the attacks, as of yet, have been fatal. The victim is from the same school as
Hinata Sorazono
, and everyone is on edge.
Everyone seems to think that the attacker is a vampire, but Hinata refuses to believe that vampires exist. She even refuses to read the popular vampire romance novel,
Until the Ends of the Earth
, that is so popular with her best friend and with fellow students. However, she discovers that her new neighbor is the novel's author,
Junya Tokinaga
. She reluctantly becomes interested in this author with an old-world air about him, but as the attacks on young women continue, Hinata begins to wonder if Junya is somehow involved.
THE LOWDOWN:
The
Honey Blood
manga is no
Vampire Knight
.
Honey Blood
has some novel ideas about vampires, but it is as much about innuendo and heavy panting and sighing as it is about vampires – if not more. Vampire Knight is edgy, dark, brutal, and tragic.
Honey Blood
is about a high school girl getting mixed up with an older man, who is conflicted about being chivalrous.
This is not supernatural puppy love, but
Honey Blood
is closer to
Twilight
than to any other vampire manga recently released in North America (such as the dark, morbid, and weird
Black Rose Alice
). Right now, I am not really impressed with it, but I suspect that once adversarial characters are introduced (such as a rival vampire and a rival love interest),
Honey Blood
will be like hotter blood.
POSSIBLE AUDIENCE:
Readers looking for shojo vampire romance will want to try a drink of the
Honey Blood
.
Last Updated: Jun 26, 2018 - 9:28