Homemade Hollywood
By Christopher Moshier
Sep 6, 2008 - 14:21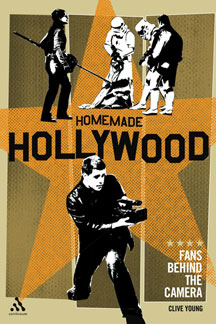 Clive Young writes the very first book about the subject of the fan film; Homemade Hollywood.
I already had exposure to
Clive Young's Fan Film BLOG
from my own internet searches for anything revolving around the subject matter. His site is a valuable resource for fan film information. YES! I rip stuff off of it very often. In all fairness Clive checks out the Comic Book Bin and
Fanboy Theatre
for items he may have missed. I think I can speak for Clive and even Fanboy Will McKenzie from Fanboy Theatre that our goal is not to out scoop each other on the world of fan film, but rather to get these films viewed by as broad an audience as possible. We may not all walk the same path, but our destination is the same.
With that said let me also say this. I've never met or talked to Clive. We've emailed a few times and I've made comments on his BLOG. To what I know of him he's a decent guy, but we're not the best of friends. The following write up is not an advertisement, a suck up for future favors, or a Christmas present. We just happened to walk in the same very small circle of the world of fan films. If I didn't feel strongly on the justice this book does as a source of literary entertainment I'd be spending my time writing about something that is.
When I heard that Clive was going to write a book on the subject of fan films I knew it was going to be a good one. He's very prolific in his writing to the level I wish I could be. Not only that he's a damn good writer structuring a sentence, paragraph, and page like a master conductor controlling an entire orchestra using a simple baton. If Clive's keyboard is his baton then "Homemade Hollywood" is his crescendo.
Homemade Hollywood is a difficult book to explain. It could easily be dismissed as a book about fan films, but it's so much more than that. There's the fan film aspect of the book, of course. Along with fan films you learn about the genesis of home movie production from the expense of the first consumer camera all the way to the economically available video technology of today. I couldn't imagine using a splicing machine in trying to put my home movies together. It makes me very appreciative of my Pinnacle Studio 9 program. Clive touches upon the parallels to the history of the fan film with direct relation to what was happening in Hollywood at any given time. The book is also a fascinating study on the world of independent film. Take all licensed characters and concepts to what fan films are about out of the book and what you have are stories about people making movies with limited means. Pretty much all the films mentioned in the book had small if no budgets. Even the higher end productions compared to how much Hollywood spends on films would seem like merely pocket change.
And that is the best thing about Homemade Hollywood – the stories. It doesn't matter if you're into fan films or even film at all. If you broke down the layers of Clive's creation what's left is quality stories than no one could make up in a million years from their own imaginations. Some are true underdog stories. A perfect example is the frame for frame remake of Raiders of the Lost Ark fan film. This film was put together by a group of kids during several years as a fun project during their childhood. They did some crazy and admittedly stupid things to get the film completed. But making that film was only half the story. The meat is how these friends drifted apart and lost touch to start new chapters in their lives, some of those chapters being darker than others as one of the members had a drug problem which he did overcome. What makes this story really magical is the fact that their film resurfaced in their adult years getting notoriety to the point where Hollywood is in the process in making a motion picture based on their experiences. How is that for life imitating art or is that art imitating life? There are dozens of stories just like this one from front cover to back that made me smile or even laugh out loud a couple times.
I would close with telling Clive he knocked this book out of the park to use a tired baseball metaphor. I'm not what one would call well read, but I had a hard time putting Homemade Hollywood down. Normally I have the attention span of a five-year-old so believe me that's saying something.

Last Updated: Jun 26, 2018 - 9:28