Comics / Manga / Yaoi Manga
His Favorite: Volume 4 SuBLime manga review
By Leroy Douresseaux
June 13, 2013 - 14:27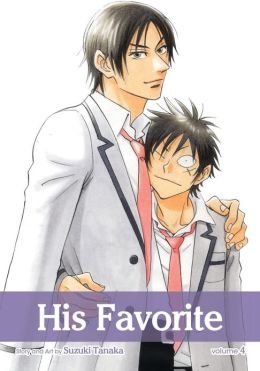 His Favorite Volume 4 cover image is courtesy of barnesandnoble.com.
Rated "T+" for "Older Teen"
His Favorite is a boys' love manga series from creator Suzuki Tanaka (Love Hurts). Boy's love (also known by the acronym, BL) depicts romantic relationships between male characters. His Favorite can be classified as "shounen-ai," the subset of BL that does not feature explicit depictions of sex between the male characters.
His Favorite focuses on Yoshio Yoshida, an awkward high school student, and Takahiko Sato, the hottest guy in school and a guy madly in love with Yoshida. However, Yoshida thinks that Sato is not really serious about anything, especially love. Meanwhile, all the girls in school are crazy about Sato, and they think that Sato and Yoshida are just really close friends. That's why they insist that Yoshida help them get closer to Sato.
His Favorite, Vol. 4 (Chapters 13 to 16) opens with a trip to the "House of Horrors," a haunted house attraction at an amusement park named, "Gorilland." Yoshida wants no part of a haunted house because he is too afraid. Sato just wants an opportunity to get close to Yoshida. Their female classmates want to use the attraction to get closer to Sato, and they'll hurt anyone who gets in their way.
Then, go back to Yoshida and Sato's middle school past. One was cool and popular; the other was a misfit about to be sent abroad. Next, Seijuro Nishida is madly in love with Yoshida, and now, he will wait no longer. It leads to a showdown at "Hell's Pass."
THE LOWDOWN: As boys' love manga goes, His Favorite is light-hearted fare. The energy that fuels this series isn't even hot-and-heavy petting, let alone actual sex. His Favorite is fueled by comedy hijinks. Yoshio Yoshida is so comical that it is difficult to imagine him sexualized or even depicted in a sex act. This may be boys' love, but I hardly think that I can call this a gay comic or comic about gay teens.
That's not to say that His Favorite is not enjoyable. I especially enjoy the throng of high school girls that wants Sato so badly, yet the girls cannot recognize the truth that is practically in their faces everyday. The best part of His Favorite Volume 4 is the story of Yoshida and Sato's past, which is a surprisingly good character piece. In fact, it is an oddity in the silliness that surrounds it. That story is the reason I'm giving this volume a grade of "B" and not something below that.
POSSIBLE AUDIENCE: Readers looking for gentle boys' love comedy will want to try the SuBLime series, His Favorite.
Rating: B /10
Last Updated: January 24, 2022 - 11:00