High School Debut: Volume 1
By Leroy Douresseaux
Dec 20, 2007 - 13:54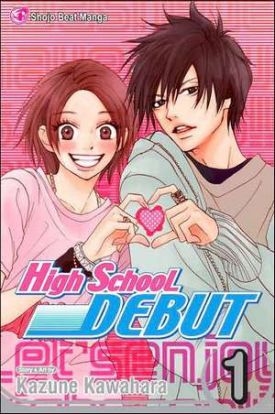 Thanks to barnesandnoble.com for the image.
High School Debut

, Vol. 1
introduces readers to
Haruna Nagashima
, a high school girl who was a tremendously talented and prolific athlete in junior high school. Now that she is in high school, Haruna has changed her focus from athletics to boys. She consults fashion magazines and shojo manga (girls' comics) for advice on everything from what to wear to how to attract a boyfriend, but it isn't working. Not one boy has even hit on her in high school.
Haruna realizes that when she wanted to get better in sports, she got a coach, so she decides that she needs a coach in the way of attracting boys. She is surprisingly able to recruit an upperclassman, the very popular Yoh Komiyama. He agrees to help her as long as she doesn't fall in love with him. But does he really feel that way, especially when one of his home boys starts to like Haruna?
THE LOWDOWN: Although her manga seems like a one note concept, manga-ka Kazune Kawahara weaves the supporting characters of her small ensemble in out of the narrative while Haruna and Yoh shine. There are large amounts of sexual tension, awkwardness, and tenderness between Haruna and Yoh, which heightens the sense of drama in their scenes. The supporting players have a pleasing way of getting things going – creating moments of comedy and conflict with nothing more than a few words or a mere appearance.
Kawahara's art is very good – quite pretty, in fact, but her strength is in emotionally evocative faces. It seems as if she learned a 1001 ways to use delicate line work on facial features and tossed hair in order to suggest emotion and mood in her characters and in the story.
POSSIBLE AUDIENCE: A "Shojo Beat" manga, High School Debut is heavy on drama and thick with underlying sexual tension – a favorite combination meal for shojo's target audience.
B+
Visit the VIZ aStore.
Last Updated: Jun 26, 2018 - 9:28