Comics / Manga / Yaoi Manga
Hide and Seek: Volume 1 yaoi manga review
By Leroy Douresseaux
July 10, 2013 - 09:58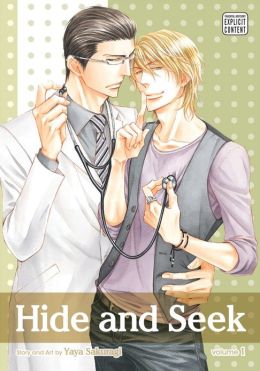 Hide and Seek Volume 1 cover image is courtesy of barnesandnoble.com.
Rated "M" for "Mature"
Hide and Seek is a yaoi manga series from creator, Yaya Sakuragi (the creator of Bond of Dreams, Bond of Love). Yaoi manga is a subset of boys' love manga (BL) and features explicit depictions of sex between male characters.
Hide and Seek, Vol. 1 (Acts 1 to 5) introduces Shuji Tanihara, a divorced single father who runs a modest corner candy shop, called Tanihara Store. His young daughter, Chisuzu, is somewhat independent, so Tanihara is always looking for something to break the boredom. Into the store walks a handsome pediatrician. Takafumi Saji of the Saji Clinic is serious and reserved, but he has another side. He is gay, and he's about to put a romantic move of Shuji.
THE LOWDOWN: Although it has sex scenes, Hide and Seek Volume 1 is a gentle love story about star-crossed lovers. It is a tale of two people who have different personalities, but can somehow become intimately tangled. The dramatic tension comes from the fact that the leads may be star-crossed sex partners and star-crossed best pals, but they may not be able to have a long term relationship because of personalities and intentions.
Yaya Sakuragi slyly inserts the idea into readers' heads that Shuji and Saji may not really be compatible. Perhaps, there is a streak of independence or perhaps they are two alpha males. Whatever it is, it made me think that every time I turned a page, there would be scene that would depict an end of the affair. Anticipation is a good thing. The best praise that I can give Hide and Seek Volume 1 is that I did not want the fun to end.
Fans of Yaya Sakuragi will be glad to know that Hide and Seek is a spin-off of her previous series, Bond of Dreams, Bond of Love. Ryomei, the priest and patissier of the earlier series, turns out to be a friend of Shuji's.
POSSIBLE AUDIENCE: Readers looking for genuinely romantic yaoi manga will want to find Hide and Seek.
Rating: A- /10
Last Updated: September 6, 2021 - 08:15