Comics / Manga / Yaoi Manga
Yaya Sakuragi's Hey, Sensei? (Yaoi)
By Leroy Douresseaux
May 2, 2009 - 10:18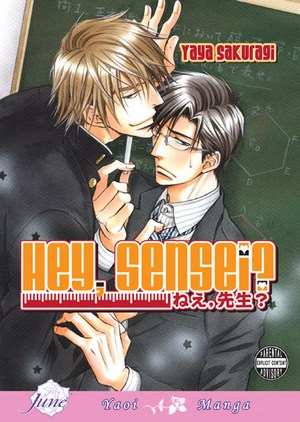 Hey, Sensei? cover image
Comedy/Romance; Rated "M" for "Mature Audiences 18+"
In the yaoi manga, Hey, Sensei?, from creator Yaya Sakuragi, a straight-laced teacher is shocked when one of his students starts propositioning him for sex.
Teacher Tomohiko Isa is known for his reserved ways and for being as rational as the math he teaches, but one of students, the rascally Takashi Homura, is determined to crack his sensei's shell. During a private review lesson, the brazen Homura corners Isa against the chalkboard and begins his shocking question with, "Hey, Sensei?" The sensible Isa would never think of having an affair with one of his students, but no matter how calmly he dismisses Homura's advances, the teen boy is undaunted. Is that why Isa's cool is starting to break before the advances of a student ten years his junior?
Yaya Sakuragi's art for Hey, Sensei? is particularly worthy of note. Her depiction of teacher Tomohiko Isa as an uptight suit-and-tie fellow is visually reminiscent of the businessmen depicted in the pin-up cartoons of Dan DeCarlo. Her Takashi Homura graphically fits the sly and randy young-man-on-the-prowl, a common yaoi character. The story, however, is the standard romantic fare about a mismatched couple beset by misunderstandings and mini-breakups. Of course, any obstacle still leads to the customary happy ending.
The back-up story, "Unbreakable Bones," is a bit spicier because one-half of the story's romantic couple has a delinquent past, and the other half is a rookie police officer. Besides, how often do North American comic book readers get to see a cute gay cop get busy? As with her other manga, Tea for Two, Sakuragi skillful page design and pretty sequential art make Hey, Sensei? a better-than-average read; if only, the story was as catchy as the visuals.
B
www.digitalmanga.com
www.akadot.com
Shop for Yaoi Delights.
Last Updated: Jun 26, 2018 - 9:28