Comics / Manga / Yaoi Manga
Hey! Class President: Volume 2 (Yaoi)
By Leroy Douresseaux
June 16, 2009 - 11:51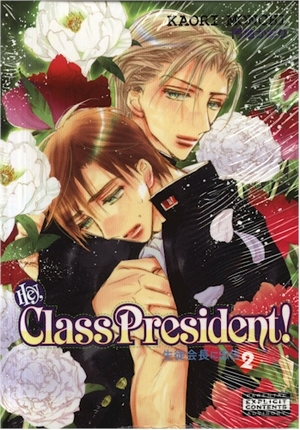 Hey Class President 2 cover image is courtesy of Anime Castle Books.
Romance; Rating: "18+ Mature Content"
Hasuhiro Chiga believed that he should have won the election to be class president of Sensoku High School. Instead, victory went to slowpoke upperclassmen Yuzou Kokusai. Much to Chiga's surprise, Kokusai asks him to be his vice-president. However, Kokusai, who has the uncanny ability to attract peeping toms, perverts, and stalkers, seems to need Chiga, who is on the judo team, to be his bodyguard more than he needs him to be his VP.
As Hey! Class President, Vol. 2, begins, Kokusai is dealing with the emotional aftermath of his first sexual experience with Chiga, and Chiga seems to have an insatiable sexual appetite. Kokusai does have his doubts about his new lover; he still believes that Chiga is a playboy and that he might have a lot of girlfriends. Meanwhile, disgraced former class VP, Hinamori, returns, and he still has strong romantic feelings for Kokusai. Will he act on those feelings?
THE LOWDOWN: The first volume of Hey! Class President had a story that was randy and steamy, and it featured explicit sex scenes. However, the story actually focused more on the emotional side of desire and lust than it did on the physical side of such feelings.
This second volume is all about character drama and physical love, and creator Kaori Monchi offers extended sex scenes that run several pages long. Sometimes, foreplay and sex take up entire chapters. Still, this time around Monchi is able to convince readers that these characters have as much potential as stars of a romantic drama as they do as characters in a porno comic book. The love triangles and rivalries are starting to be as hot as the sex.
POSSIBLE AUDIENCE: Readers looking for overheated love play and hot drama will find it in Hey! Class President.
B
www.digitalmanga.com
www.akadot.com
Shop for Yaoi Delights.
Last Updated: January 24, 2022 - 11:00