Comics / Comic Reviews / DC Comics
He-Man ThunderCats #1 comics review

By Leroy Douresseaux
Oct 14, 2016 - 23:35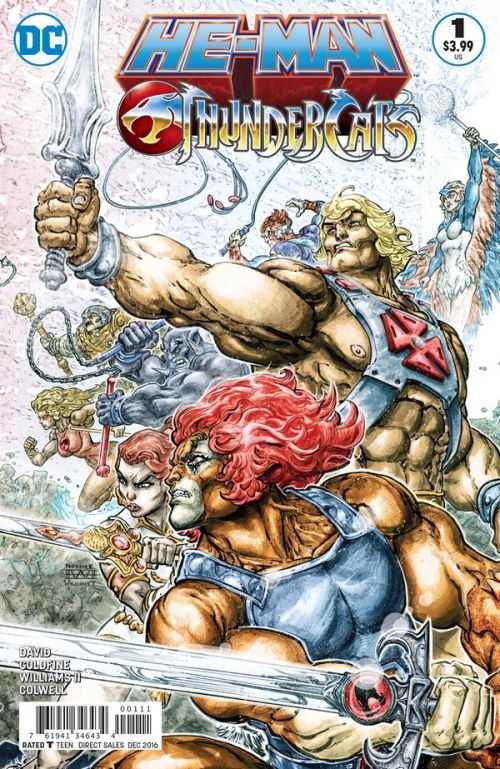 He-Man ThunderCats #1 cover image
Rated "T" for Teen

"Swords and Omens"
He-Man and the Masters of the Universe. Thunder! Thunder! ThunderCats! Ho!!!
These two decades-old media franchises come together in the new DC Comics miniseries, He-Man ThunderCats. This comic book is written by Rob David and Lloyd Goldfine; drawn by Freddie E. Williams II; colored by Jeremy Colwell; and lettered by Deron Bennett.
As He-Man ThunderCats #1 ("Swords and Omens") opens, Mumm-ra's punk ass has just lost to Lion-o... again. Even a being who holds sway over death, however, must serve someone, and Mumm-ra's "benefactors," the Ancient Spirits of Evil, want results. What they want is on the magical planet of Eternia. The method by which they send Mumm-ra to obtain it will force two groups of heroes together in order to save two worlds.
THE LOWDOWN: He-Man ThunderCats #1 does not necessarily start with a bang. I was also put off by how much comedy plays on the Eternia end of the story because I had forgotten how much humor was a part of the "He-Man and the Masters of the Universe" animated series. The first two-thirds of this comic book has a jarring tone, but writer Rob David and Lloyd Goldfine bring everything crashing together by the end. Suddenly, it is serious; lives are on the line; and everything is at stake.
I was a fan of artist Freddie E. Williams II's work on the recent crossover comic book miniseries, Batman/Teenage Mutant Ninja Turtles. In the first issue of He-Man ThunderCats, I am impressed by his ability to juggle big action scenes with the large number of characters he must depict. I don't know if Williams can match his Batman/TMNT work, but I am curious to see where this goes.
POSSIBLE AUDIENCE: Fans of Masters of the Universe and ThunderCats will certainly want to try He-Man ThunderCats.
B
Rating: B /10
Support this writer on Patreon
Last Updated: Jun 26, 2018 - 9:28