Hellboy II: The Golden Army
By Beth Davies-Stofka
July 16, 2008 - 11:16
Title: Hellboy II: The Golden Army
If you saw 2004's
Hellboy
, then you saw
Hellboy II: The Golden Army
. The plot synopsis is very simple: Hellboy fights monsters. Throw in a little anti-authoritarian attitude, a craving to go out in public, some trouble in his love life, and a fatal choice that must be made. The plots are virtually indistinguishable. But plot is not what makes this movie franchise interesting. It's the magical vision of director Guillermo del Toro, the talents of Ron Perlman, and the non-stop comedy that make
Hellboy II
such an enjoyable escape from the heat of summer.
Casting Ron Perlman as the swaggering, gravelly-voiced, cigar-chomping Hellboy was genius. Just when we thought that the "greatest generation" of silver screen alpha males had passed away for good, along comes Perlman with fists and jaw writ large. Confident, wise-cracking, and fearless, he relishes a good fight, and shows off with bravado. Take Lee Marvin out of his foxhole, paint him red and give him a tail, and set him loose on New York's crazy streets. The result is Hellboy, the sexy Teamster of superheroes who loves his job. Stomping through a battleground, tossing off one-liners, laden with prosthetics and yellow contact lenses, Perlman lets us into Hellboy's heart, and asks us to love him. We do, with all our hearts.
Writer-director Guillermo del Toro seems to treat the Hellboy movies as an opportunity to relax and have fun. His original scripts (
The Devil's Backbone
,
Pan's Labyrinth
) use the horror genre to explore the genuinely terrifying historical phenomenon of fascism. If you haven't seen these movies, you must. They are scary and deeply moving films.
Hellboy II: The Golden Army
lets this most unique director give his imagination free reign unburdened by a concern for deeper meaning. This isn't about anything more than having a good time, and what a good time it is!
Every frame seems to deliver a new wow. Monsters and demons, fairies and trolls, and unknown creatures galore abound amidst gizmos, gadgets, contraptions, and thingamabobs. The colors are lush and powerful. And in what is fast becoming a signature aspect of del Toro's work, there is no separation between the supernatural and mundane worlds. All exist together, seamlessly, and all are just as real. Mignola's fascination with gears is here in abundance as well, reminding us that the secular, the supernatural, humans, machines, and nature all share a common reality, in uneasy terms and rapidly escalating crisis.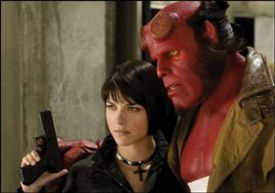 Luke Goss's villainous elf prince is unusual in that we are tempted to root for him, because has a point. He warns Hellboy that there is an ultimate decision to be made, because humanity and nature are on a collision course. And if the movie falls down anywhere, it is here, because that decision is deferred to an uncertain future (presumably in four more years in Hellboy 3). In 2004's
Hellboy
, our hero was made to decide, and he did. In this sequel, our hero is told he's going to have to decide, but later.
Hellboy II: The Golden Army
is not a complete film in itself, but actually a setup for its sequel. The dramatic heart of the film was deferred, and I felt set up.
Hellboy is not a reluctant superhero, and he doesn't brood about his calling or let on that he gives much thought to the extent of the evil in the world, or the reasons for it. This is refreshing, and joyful, and highly entertaining. But there are ominous signs in
Hellboy II
that this quality may not survive the next sequel. Sitting in that theater, a deeper meaning starts to emerge, as the movie stirs your unease, and makes you wonder just why it is so hot outside.
Rating: 9 /10
Last Updated: July 2, 2020 - 11:49