Comics / Comic Reviews / More Comics
Helena Crash: Fueled By Coffee comics review

By Leroy Douresseaux
December 27, 2017 - 19:37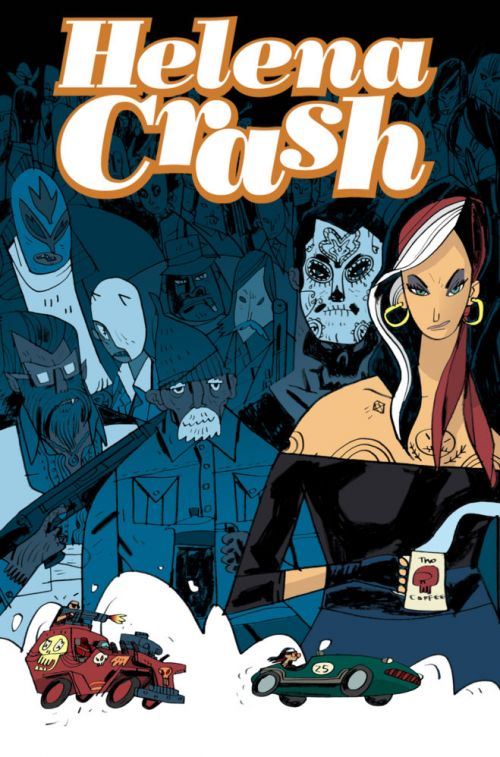 Helena Crash: Fueled By Coffee cover image
Helena Crash
was a four-issue comic book miniseries published by IDW Publishing earlier this year. The series was written by
Fabian Rangel, Jr.
and drawn by
Warwick Johnson Cadwell
. The science fiction action series focused on a courier with an independent streak who must turn to her friends when she finds herself in the middle of a gang war. IDW recently collected the Helena Crash miniseries in a full-color trade paperback collection entitled
Helena Crash: Fueled by Coffee
.
Helena Crash is set in a near-future scenario in which coffee is illegal. Apparently, some kind of environmental crash made it exceedingly difficult to grow coffee beans, and obviously people went nuts when coffee became scarce. In the world and time in which Helena Crash is set, coffee is a contraband item for which some are willing to spend large sums of money to obtain. Even more surprising, in the world of Helena Crash, aliens from other planets live on Earth.
Helena
was an orphan who did not know her parents, so she took the last name "Crash" to replace the surname that was lost to her. A former race car driver, Helena is now a courier who tracks down and delivers hard-to-attain good, including coffee. One of her customers,
Rojo
, the second most dangerous crime lord in the city, suddenly asks Helena to kill his rival, an alien crime lord called "
The White Devil
." Helena not only refuses Rojo's offer, but must also refuse a surprising counter offer. Now, Helena is in the middle of a gang war and is also being hunted by an extremely dangerous street gang of roving scavengers.
THE LOWDOWN:
I remember discovering the existence of Helena Crash while going over comic book shipping lists at the Diamond Distributors website. I read a little about the first issue and promptly ignored it. I could no longer ignore it when IDW Publishing sent me a review copy of the trade paperback, Helena Crash: Fueled by Coffee.
Helena Crash co-creator and writer, Fabian Rangel, Jr., has self-published his own comics (
Extinct
), and has had his work published by the small press (
Engines of Doom
from 215 Ink) and major publishers (
Five Ghosts
from Image Comics). Artist and co-creator, Warwick Johnson Cadwell, has drawn many comic books, including
Head Lopper
,
Tank Girl: Solid State Tank Girl
, and
Samurai Jack: Quantum Jack
, to name a few. Helena Crash reflects an indie comics, self-made aesthetic and is influenced by inventive offbeat science fiction like Samurai Jack,
Tank Girl
, and the
Mad Max
films, as well as by lucha libre and ronin pop culture.
And yes, my ignoring it was out of ignorance, because I love me some off-beat, near-future, dystopian, science fiction comic books (like Black Mask Studio's recent, The Dregs). Helena Crash is not a "great work of comics," but it is hugely entertaining, and Helena Crash, the scenario and the character, have the potential to become something great in comics – if it continues past this first story arc...
Cadwell's graphic style is like Ted McKeever meets Chuck Jones; it is fast-paced comics storytelling, in which just about every panel is, individually, a unique and visually striking still image. Rangel presents a character that is not an action figure, but is instead a hero that is strong enough to overcome obstacles, but vulnerable enough so that readers will believe the danger to her is real and could be fatal.
When I finished reading Helena Crash: Fueled by Coffee, I asked myself if I would read more of this. The answer is that I would. I also asked myself if I would recommend this to readers of my reviews. The answer is also yes. Helena Crash and her comic book is more interesting than most of the Harley Quinn comics DC Comics is peddling to its customers.
I READS YOU RECOMMENDS:
Fans of Tank Girl and other indie sci-fi will want to try
Helena Crash: Fueled by Coffee
.
A
8 out of 10
Rating: 8 /10
Last Updated: September 6, 2021 - 08:15