Comics / Comic Reviews / More Comics
Hate Annual #8
By Leroy Douresseaux
April 15, 2010 - 18:33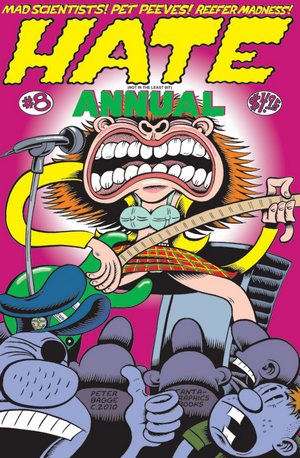 Hate Annual #8 cover image
All it takes is reading the first page of a Hate Annual for me to remember how much I miss Buddy Bradley. Bradley is Peter Bagge's signature character, having appeared most famously in Bagge's 1980s magazine-sized comic book series, Neat Stuff, and his 1990s series, Hate. Considered the personification of the Generation X loser, Buddy often came across a member of the Silent Generation.
In Hate Annual #8, however, Buddy's wife, Lisa Leavenworth-Bradley, takes center stage. Attending a P.T.A. meeting at their son, Harold's school, Lisa and Buddy make friends with another couple, the thoroughly GenX, Stacy and Brandon. While Buddy cools on Brandon, Lisa, looking for an outlet to alleviate her boredom, forms a rock band with Stacy. And their first public outing is a hot mess.
Readers needing their Peter Bagge and/or Hate fix will get it here. Bagge is, as usual, at or near top form, which only makes me want more. Surprisingly, the most delightful bits in this Hate Annual are the six, one-pager that make comedy out of little-known innovators, inventors, and scientists. Part Monty Python-esque history and part gag strip, Bagge exercises his droll wit in these short pieces. Reading "Major Walter Reed in 'Yellow Fever Fever!'" simply reinforces my belief that Bagge is great simply because he can work comix magic in just a few panels. I would hate for Hate Annual #8 not to be on your buying list.
A-
Last Updated: September 6, 2021 - 08:15