Happy Marriage?!, Volume 9 manga review
By Leroy Douresseaux
January 13, 2015 - 19:41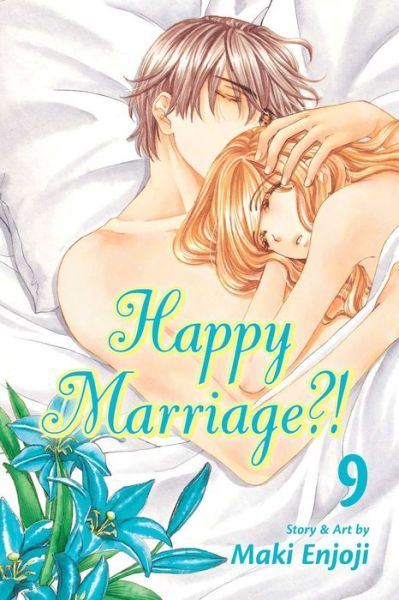 Happy Marriage?! Volume 9 cover image
Follow me on
Twitter
.
Rated "M" for "Mature"
Chiwa Takanashi
may never have had any girlish fantasies about courtship and marriage, but she found herself in an unlikely scenario. The 22-years-old married a total stranger in order to get her father out of debt! Her husband, 28-year-old
Hokuto Mamiya
, was the President and CEO of
Mamiya Commerce
. Their marriage, for a time, was a secret, with only Hokuto's personal assistant, Taeko Soma, knowing of the union's true nature. Two years later, Chiwa and Hokuto are trying to be a real married couple.
As
Happy Marriage?!

, Vol. 9
(Chapters 33 to 36) opens, Chiwa is ready to confront the person responsible for the attack on her. It's
Misaki Shitara
, president of the famous brand, Michelle Hearts! Shitara once dated Hokuto and believes that Chiwa is not good enough for him. But is she really behind the attack?
Then, Hokuto receives some terrible news. In the aftermath, Chiwa learns something troubling about Hokuto's past, but she believes that she cannot share that information with him. That belief may be a big mistake.
[This volume contains two bonus stories.]
THE LOWDOWN:
With each volume, I enjoy the
Happy Marriage?!
manga a little more. Like the previous volume,
Happy Marriage?! Volume 9
is one of the better volumes of the series. There is plenty of intrigue, this time involving the Mamiya family and its rivalries and squabbles. Some of the feuding is quite edgy.
As shojo romances go, I like the dark side of
Happy Marriage?!
It is an antidote to Chiwa's fretting. The edginess gives this series the feel of a mature soap opera, with some of it being like an evening soap for teens.
Happy Marriage?!
makes me a happy reader, and I'm ready for the next volume.
POSSIBLE AUDIENCE:
Readers looking for shojo romantic drama will find that in the Shojo Beat title,
Happy Marriage?!
Rating: A /10
Last Updated: August 31, 2023 - 08:12