Happy Marriage?!, Volume 8 Advanced manga review
By Leroy Douresseaux
October 4, 2014 - 21:02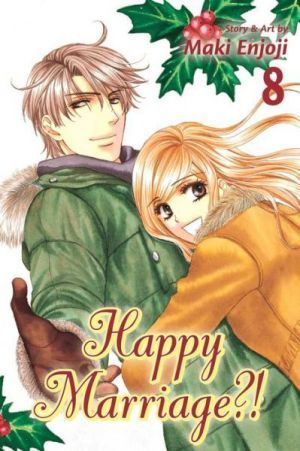 Happy Marriage Volume 8 cover image is courtesy of barnesandnoble.com.
Follow me on
Twitter
.
Rated "M" for "Mature"
Chiwa Takanashi
, who never had any girlish fantasies about courtship and marriage, found herself in an unlikely scenario. Chiwa was 22-years-old when she married a total stranger in order to get her father out of debt! Her husband, 28-year-old
Hokuto Mamiya
, was the President and CEO of
Mamiya Commerce
. Their marriage, for a time, was a secret, with only Hokuto's personal assistant,
Taeko Soma
, knowing of the union's true nature. Two years later, Chiwa and Hokuto are trying to be a real married couple.
As
Happy Marriage?!

, Vol. 8
(Chapters 29 to 32) opens, Chiwa and Hokuto are confronted by life questions. What are their goals? What does each want out of the relationship? And Hokuto even says they can't be a true married couple. What?! Also, there is an accident, a meeting with particular Mamiya family members, and plenty of conniving by different "interested" parties.
[This volume contains a bonus story.]
THE LOWDOWN:
I never thought that I would really get into the
Happy Marriage?!
manga, but I like it.
Happy Marriage?! Volume 8
is one of the better volumes of the series. There is plenty of intrigue, and Chiwa and Hokuto's not-a-happy-marriage hits unhappy moments. Regular readers will have fun with the changes and revelations.
I did find an unusual surprise. The bonus short story is fantastic. I'm surprised – not that a bonus story entertains me; many have. This one is simply a delightful "bonus."
POSSIBLE AUDIENCE:
Readers looking for shojo romantic drama will find that in the Shojo Beat title,
Happy Marriage?!
Last Updated: August 31, 2023 - 08:12